Political Daughters Kara Kennedy And Eleanor Mondale Both Die At Age 51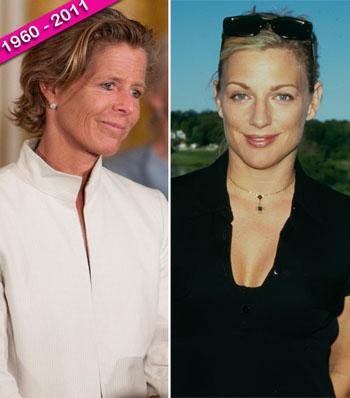 In a bizarre and tragic coincidence, Ted Kennedy's daughter Kara Kennedy, and Walter Mondale's daughter Eleanor Mondale, died within 24 hours of each other. Both were only 51-years-old.
Kara, who died on Friday, was the oldest child of the late Sen. Ted Kennedy and his first wife, Joan. A documentary filmmaker, she was also active in her father's political campaigns.
The divorced mother of two was diagnosed with lung cancer in 2002. It later went into remission, and she was believed to have been cancer-free at the time of her death.
Article continues below advertisement
"She's with dad," her brother, former Congressman Patrick Kennedy said in a statement.
Eleanor Mondale was a much more public personality. The daughter of former Vice President Walter Mondale and his wife Joan, Eleanor was often called a "wild child" and became a magnet for gossip.
An actress turned TV and radio reporter, she had several high profile romances and three marriages. She was wed to rock musician Chan Poling at the time of her passing early Saturday.
Eleanor had battled brain cancer since 2005, and in a statement, her parents commented on her brave fight.
"Joan and I must report that our wonderful daughter, Eleanor Mondale Poling, after her long and gutsy battle against cancer, went up to heaven last night to be with her angel," the Mondales said. "Thank you for all your friendship, you will hear more about plans to celebrate her life soon."
RELATED STORIES: