Just Adorable! Gisele Bundchen's Baby Boy Is Growing Up Oh So Fast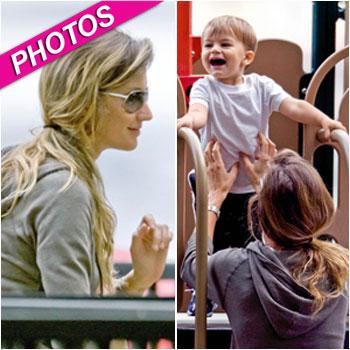 Gisele Bundchen's cute as a button baby boy is getting so big, so fast, and RadarOnline.com has the latest photos.
Benjamin, 21-months, the son of Gisele and NFL star Tom Brady, showed that it was all kids' play as he had a fun day at the park Thursday.
The gorgeous boy has inherited his mother's looks and father's athletic ability and giggled away while making his way down a slide in Boston, Massachusetts.
Article continues below advertisement
They were joined by Tom Brady Sr who obviously relished spending time with his grandson.
The Brazilian supermodel tickled her son and looked great even while dressed down in sweats and messy hair.
Grandad Brady took pictures on his phone of the youngster and then had a laugh at the images with his daughter-in-law.
Benjamin seems to have gone through a growth spurt recently and with parents who are both tall he's sure to be a lanky boy growing up.
Meanwhile, he may be lanky, but he'll certainly never be poor!
Gisele, 31, raked in $45 million in 2010, according to Forbes Magazine, while Tom earned $31 million -- making them the world's highest paid celebrity couple.