George Clooney And Stacy Keibler Take Their Romance Public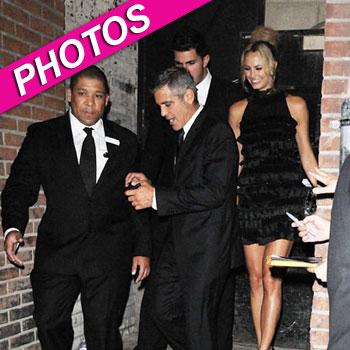 George Clooney and Stacy Keibler aren't hiding from the cameras any more. They took their budding romance public Saturday night, stepping out for an event at the Toronto Film Festival.
Last night it was the premiere and after-party for director Alexander Payne's The Descendants, in which Clooney has a small role.
This was the third night in a row for Clooney-Keibler sightings but the first time they didn't take maneuvers to avoid the paparazzi cameras. As RadarOnline.com previously reported, the pair was on the down-low for two events connected with Clooney's big new film, The Ides of March, which had its premiere at the Festival.
Article continues below advertisement