George & Cindy Anthony: Maybe Casey Was Schizophrenic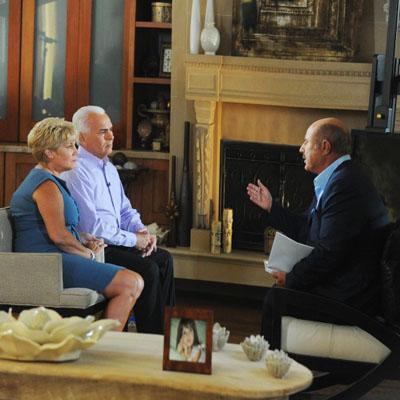 By Adam S. Levy - RadarOnline.com Staff Writer
We've got more from the explosive sit-down interview between Dr. Phil McGraw and Casey Anthony's parents George and Cindy, as it marks the first time the controversial couple has spoken publicly since their daughter's trial this past summer.
George and Cindy said that Casey hid her pregnancy from them for five months, possibly due to a brief separation they took in 2006 after George had amassed major gambling debts.
Article continues below advertisement
"Cindy and I had separated for a few months," George told Dr. Phil, noting he began to notice Casey "not being at the places she said she was going to be at. "Things never added up to me."
Cindy said, "Everybody felt let down by their dad, and kind of betrayed, and the thing that hurt Casey the most was that he wanted us to sell the house and split it up -- Casey felt like he was kicking her and Caylee out."
Cindy told Dr. Phil things reached their boiling point when she learned that her granddaughter Caylee had been missing for 31 days.
"My worst nightmare had just unfolded right in front of me," Cindy said. "I just screamed at her.
"I said, 'What the hell are you talking about?' I said, 'What do you mean, you haven't seen Caylee? I wanted to go choke her or hit her and... I just punched the bed as hard as I could to get my anger out."
Article continues below advertisement
Cindy said in retrospect, she wonders if her daughter developed post-postpartum schizophrenia "or some type of issue" that would drastically change her personality following her pregnancy.
Cindy said Casey had suffered two grand mal seizures: one in November of 2007, and another after she came home for the very first time following her pregnancy. (Note: Doctors say grand mal seizures do not correlate to erratic behavior.)
"I don't know why she's having a seizure," Cindy said. "Does she have a brain tumor? Were the seizures caused by stress? I don't know what happened, and that's what I want to find out down the road."
Watch the video on RadarOnline.com
Visit msnbc.com for breaking news, world news, and news about the economy
Matt Lauer and Dr. Phil chatted about the parents' demeanor in the interview, with the TV therapist calling out Cindy's responses as "denial of the highest order."
Article continues below advertisement
"Now understand, her sequence is, 'Something happened to Caylee, and therefore, she, Casey, went off the deep end, as opposed to Casey went off the deep end -- it's like I'm going to find some reason to say it was involuntary on her part, whatever it is she did," Dr. Phil said. "When I confront her with that, she comes up with another excuse, another excuse and another excuse."
Casey Anthony's Camp: Ex Trying To Exploit The Situation' With Book
A Florida jury on July 5 found Casey not guilty on charges of first-degree murder, aggravated manslaughter and aggravated child abuse in the 2008 death of her daughter Caylee.
She has since returned to Florida to serve one year of supervised probation to an unrelated check fraud conviction.
RELATED STORIES:
Casey Anthony's Camp: Ex Trying To Exploit The Situation' With Book