Gay Soldier On 'Coming Out' Video: 'Everybody's Been So Great'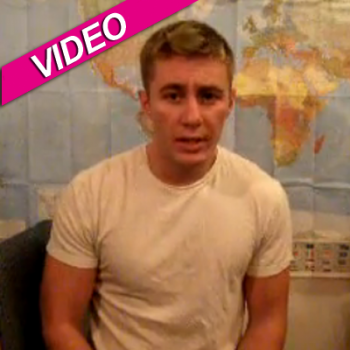 by RadarOnline.com Staff
One day after a gay soldier posted on YouTube a moving video of him coming out to his father, he says he feels "so comfortable" with his decision and that "everybody's been so great."
As RadarOnline.com previously reported, the video begins with Randy Phillips, a 21-year-old soldier based at Ramstein Air Base in Germany, walking into the camera's frame and sitting at a desk with a map of the world behind him.
Article continues below advertisement
"I'm probably about as nervous as I can ever remember being," Phillips says. "I'm about to call my dad in Alabama…
"He has no clue, nor do any members of my family"
As the phone rings, Phillips put his hand to his chest and softly says: "My heart is beating like crazy"
When his father finally picks up, Phillips says: "Hey daddy… What are you doing?… Can I tell you something? Will you love me, serious?"
"Yes," his dad replies.
"Dad, I'm gay," Phillips says.
"OK" the father says.
"Always have been… I wanted to tell you in person.. I didn't want you to find out any other way…Do you still love me?" Phillips asks his dad.
"I still love you, son. Yes, I still love you," his father replies.
"It doesn't change our relationship.. You hear me?" he adds.
Phillips then tells his dad he hasn't told his mom or other members of his family.
Article continues below advertisement
After Phillips posted the video on YouTube, it quickly went viral and got more than 1.5 million views in a single day. His video description reads: "I called my dad to tell him the hardest thing that gay guys will ever have to say."
Speaking via Skype to ABC News on Wednesday, Phillips said of his decision to come out and post the video: "It feels great. It's nice not having to look over your shoulder or worry about who you are talking to. I never thought I'd be so comfortable with it. It's very supportive. Everybody's been so great."
Watch the video on RadarOnline.com
As for Phillips' father, he told ABC News that he was not exactly thrilled that his son put the clip on YouTube, but reiterated once again that he loves his son, and always will.
In another interview, Phillips said the decision inspired an older colleague to pick up the phone and call his parents to tell them that he too is gay.
"If it helped one person, then it's all worth it" he said.
Article continues below advertisement
Phillips also said he called his mother, but said that conversation "wasn't quite as easy." He said his sisters also now know he's gay.
He decided to tell his family this week after sharing the news with other colleagues in the military and friends.
For Phillips, even showing his face had taken months. He began his journey of coming out last April, posting anonymous YouTube videos while deployed near the Persian Gulf, seeking advice and support.
"I just want to share my journey and struggles with you," Phillips said in a clip posted in April. "I know there are a lot of people that will benefit from this. I don't want to sound selfish, but I made this for me -- so people can help me out … and say 'so when are you going to take the next step?'"
On Twitter, Phillips had described himself as a "military member in the closet, using social media to build up the courage to come out to family, girlfriend, friends and co-workers."