Eva Longoria: 'I'm A Big Obama Supporter, No Matter What He's Been Through'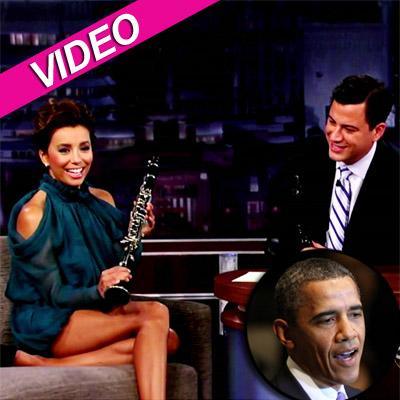 Wisteria Lane met Pennsylvania Avenue on Tuesday's edition of Jimmy Kimmel Live!, as Desperate Housewives beauty Eva Longoria told Kimmel about her recent dinner with President Barack Obama at a fundraiser, and how she feels about the job he's done over the past two-and-a-half years.
"It's a special privilege to meet our commander-in-chief, I'm a big Obama supporter no matter what he's been through -- he's been beaten up the past couple of years," Longoria said, adding how the president has always been receptive to her as she's been "a big advocate for Latino issues."
Article continues below advertisement
Longoria said the president "keeps getting beat up lately because there's such an extremist movement, and for me, it's very dangerous because its not the character of America."
The president has "been governing in a state of emergency since he took office," Longoria said, adding we haven't really seen him get a chance to show what he can do.
When Longoria turned the tables on Kimmel -- quizzing him about his political affiliation – the late night host admitted he doesn't want to talk politics "because people will think the jokes come from a certain standpoint.
MORE ON:
hollywood happenings