Dominique Strauss-Kahn Breaks Silence: 'The Maid Lied About Everything'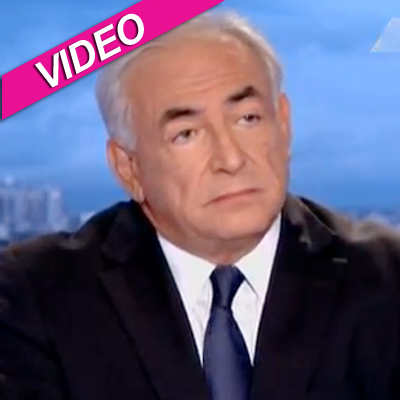 By Adam S. Levy - RadarOnline.com Staff Writer
Dominique Strauss-Kahn spoke publicly for the first time since his May 14 arrest on accusations he sexually assaulted maid Nofissatou Diallo at New York's Sofitel hotel, admitting that while he committed a "a moral failure" in his behavior, their encounter was consensual and not violent.
"What happened was not just inappropriate, it was more than that, it was a fault; a fault toward my wife, my children, my friends but also a fault toward the French people who placed in me their hope for change," he told French news outlet TF1. "It was a moral fault of which I am not proud. I regret it infinitely. I have regretted it every day for the last four months; I don't believe I have finished regretting it."
Article continues below advertisement
The ex-International Monetary Fund leader was freed in August after prosecutors dropped all of the charges against him -- attempted rape, sex abuse, unlawful imprisonment and forcible touching -- claiming Diallo had killed her credibility after repeatedly changing her story; Strauss-Kahn said Sunday, she "lied about everything."
Referring to a civil case Diallo, 32, has filed against him, Strauss-Kahn, 62, said it's "weird for the French that when the charges are dropped, a civil case can move forward, but that's American law."
Strauss-Kahn said he felt "very scared" being caught up in the American legal system.
"When you are in a crunching machine like that, you have the impression it is crushing you to death," he said. "I felt ground under its heel, humiliated. I have suffered a violent experience."
Watch the video on RadarOnline.com
Strauss-Kahn said another similar incident, in which he's accused of sexual assault in 2003 with French writer Tristane Banon, was not violent either, and that her account is "imaginary" and "slanderous." He added he could not speak more about the incident, as it's under investigation in France.
Once a promising political prospect in France, Strauss-Kahn reiterated in his interview he's "a candidate for nothing" at this time, though did say "We will see," when asked if he'd consider a return to politics down the line.