J.R. Martinez & Chynna Phillips Tie At Top On DWTS; Ron Artest At Bottom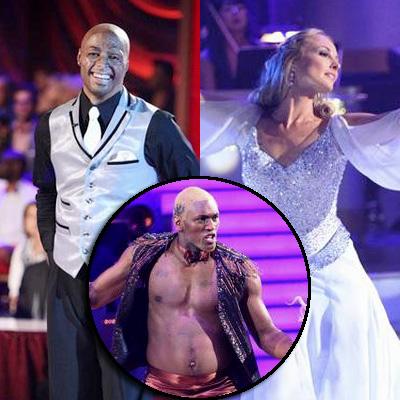 All eyes were on Chaz Bono for the premiere of the 13th season of ABC's Dancing with the Stars Monday night, but
former Iraqi war veteran turned actor/activist J.R. Martinez and Chynna Phillips stole the show. Each waltzed their way into a two-way tie for the top spot -- scoring 22 out of 30 for their freshman dances.
NBA star Ron Artest, who last week legally changed his name to Metta World Peace, came in dead last with a stinging score of 14 out of 30.
Article continues below advertisement
DWTS Cast Revealed -- Who Is J.R. Martinez?
The 6'7" Artest -- who seemed to be channeling Dennis Rodman -- was first to hit the dance floor with new pro Petra Murgatroyd. Judge Len Goodman slammed Artest's cha cha cha as the "same old shimmying about" and called his footwork "atrocious." Bruno Tonioli said the towering Laker has "such length of bone that it's sometimes difficult navigating intricacies of technique," while Carrie Ann Inaba called Artest "eccentric and yet kind of sexy." She also criticized his poor technical skills.
A dapper looking Rob Kardashian was next. Wearing a tuxedo and clean-shaven, Kim K's baby brother -- teamed with pro partner Cheryl Burke -- performed a somewhat stiff Viennese waltz to Rogue Wave's Lake Michigan. Carrie Ann said she sees potential in Rob, but Len told him he was being "too careful." Total score: 16/30.
Former Laguna Beach and The Hills star Kristin Cavallari paired with Mark Ballas for a rousing cha cha cha set to the Taio Cruz hit Dynamite. Carrie Anne said she wants to see more of Cavallari this season, praising her for her "sparkle." Bruno said Cavallari needs to demonstrate better precision with her moves. Total score: 19/30.
Article continues below advertisement
Wilson Phillips member Chynna Phillips and pro partner Tony Dovolani performed a graceful Viennese waltz to Alicia Keys' If I Ain't Got You. Goodman said it wasn't the best first dance he's seen, "but it was close." Tonioli said "the talent is there" for Phillips to do well on the show. "Everything was perfection," Carrie Ann gushed about Phillips. Total score: 22/30.
Former prosecutor turned HLN legal analyst Nancy Grace did surprising well -- performing a bouncy cha cha cha with another newbie, Irish hottie Tristan McManus. While Tonioli told Grace it appeared that she doesn't believe in herself, Inaba said Grace showed spunk. Total score: 16/30.
Ultimate showman David Arquette -- who noted that he was eight months sober -- danced the Viennese waltz to Queen's Somebody to Love with his pro partner, reigning champ Kym Johnson. Inaba pointed out that he made a mistake, and advised him to keep his poise at all times. Goodman said he was impressed by Arquette's first dance. Perhaps surprisingly, Arquette's estranged wife, actress Courteney Cox, and their seven-year-old daughter Coco, were front and center in the audience, cheering him on. Total score: 18/30.
MORE ON:
Dancing With the Stars
Article continues below advertisement
Italian model (more famously known as George Clooney's ex) Elisabetta Canalis danced the cha cha cha to Katy Perry's Last Friday Night ( T.G.I.F.) with new pro (and Mak's younger brother) Val Chmerkovskiy by lying in bed with him. Len (of course) did not like the gimmick of starting in bed, while Bruno joked that she looked good in the sack. Carrie Ann said Canalis needs to learn to move with the music. Total score: 15/30.
U.S. women's national soccer team goalie Hope Solo and Maksim Chmerkovskiy performed a dazzling Viennese waltz set to Dave Matthews Band's Satellite. Tonioli said Solo has a bright future, but she must show more control. Carrie Anne praised Solo's wonderful chemistry with Maks, while Len insisted that Solo be more "feminine" in her movements. Total score: 21/30.
Fashion guru Carson Kressley and Russian beauty Anna Trebunskaya performed an energic cha cha cha to the Maroon 5 's Moves Like Jagger. Inaba called it her favorite dance of the night. Goodman said it had elements of Jagger, swagger and stagger. "We have Mick, we have Bianca, two for the price of one and worth every penny!" Bruno added. Total score: 17/30.
Article continues below advertisement
Former war vet turned actor/activist J.R. Martinez and Karina Smirnoff danced an emotional Viennese waltz to Kelly Clarkson's moving hit Breakaway. "J.R. comes from Just Right," Len said, beaming. "It was beautiful to see the confidence, the fluidity and the musicality," Carrie Ann added. Total score: 22/30.
Actress and former talk show host Ricki Lake and her pro partner Derek Hough danced an elegant Viennese waltz. Inaba likened them to a prince and princess, while Bruno called Lake a "cup of cream." Total score: 20/30.
Last, but not least, was controversial contestant Chaz Bono. Teamed with pro partner Lacey Schwimmer, the pair performed a rousing cha cha cha as the house band played Martha and the Vandellas' Dancing in the Street. Inaba said Bono did not disappoint the crowd, Goodman told Bono he approached the dance with the right attitude, and Tonioli called it a great debut. Total score: 17/20.
Dancing with the Stars returns Tuesday night at 8/c with a behind-the-scenes special, followed by the first results show of the season, during which one of the couples will be voted off.