Bradley Cooper, Hugh Laurie, & U2 Honored At GQ Men Of The Year Awards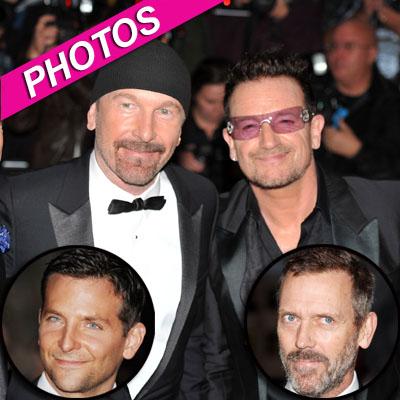 Bradley Cooper, Hugh Laurie and U2 were among the honorees at the star-studded GQ Men of the Year awards Tuesday night in London.
While Cooper -- the sexy star of such films as The Hangover Parts 1 & 2 and Limitless -- was honored as International Man of the Year, House star (and singer) Hugh Laurie was honored as Musician of the Year, and U2 was cited as Band of the Year.
The Beautiful Day rockers were feted after completing the highest grossing tour of all time this summer and performing a headline set at Glastonbury -- their first festival performance as a band for 25 years.
Article continues below advertisement
Since completing their 360 Degrees Tour, frontman Bono says he has been relaxing in his native Ireland.
He told The Sun newspaper: "I've been in Dublin for the last week or so. I was in France but came home for a while.
"I rang some pals and asked what they thought I should do to keep busy. One said, 'Just walk the dog.' So I took the dog out with my wife. It's a mongrel and a really strong animal.
"It dragged us through the streets and some little kid shouted, 'Is that dog walking you, or are you walking the dog, Bono?'I knew I was home. You can't beat it."
In addition to U2, Cooper, and Laurie, other winners at the ceremony -- which was held at the Royal Opera House in London -- included Benedict Cumberbatch, who took home the Actor of the Year prize.
Rapper Tinie Tempah headed over to the awards after losing out on the Barclaycard Mercury Music Prize earlier in the night, and scooped the Solo Artist of the Year trophy.
Pop legends Duran Duran were given the Lifetime Achievement prize, while Rolling Stones rocker Keith Richards was named Writer of the Year for his memoir Life.
Article continues below advertisement
Supermodel Lara Stone was the only female to pick a statuette, taking home the Woman of the Year accolade.
Jason Bateman Brings Up Ryan Reynolds' Divorce On The View
The ceremony and subsequent party was attended by a galaxy of stars including Kylie Minogue, Daisy Lowe, Kelly Brook, Pixie Lott, and John Legend.
GQ Men of the Year 2011, full list of winners:
International Man of the Year – Bradley Cooper
Lifetime Achievement – Duran Duran
Woman of the Year – Lara Stone
Band of the Year – U2
Sportsman of the Year – Rory McIlroy
Politician of the Year – George Osborne
Designer of the Year – Tommy Hilfiger
Actor of the Year – Benedict Cumberbatch
Solo Artist of the Year – Tinie Tempah
Musician of the Year – Hugh Laurie
Writer of the Year – Keith Richards
TV Personality of the Year – Professor Brian Cox
Comedian of the Year – Rob Brydon