What In The World Is Wrong With Brad? Pitt Looks A Little Piqued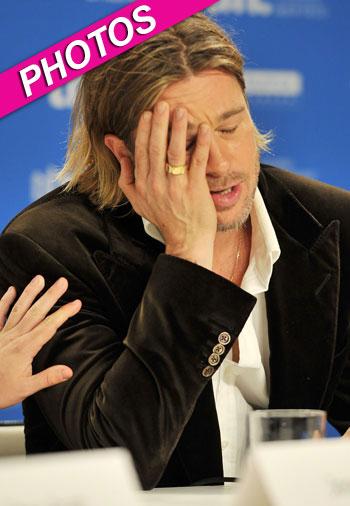 Considering Brad Pitt has a seemingly perfect life, with a red hot career, beautiful children, millions in the bank and a gorgeous life partner in Angelina Jolie , you would think he would be all smiles.
But the 47-year-old father of six was looking somewhat exasperated Friday as he sat through a press conference for his new movie Moneyball at the 36th Toronto Film Festival in Canada.
Maybe Brad was suffering from a little jet lag, having just flown in from Great Britain where he has been working on his next movie, zombie flick, World War Z.
Article continues below advertisement
Despite the expression though, Brad still looked movie star magnificent, with his blonde streaked hair parted in the middle, brown velvet jacket and cream shirt.
And what's with the big gold band Brad?
The actor was wearing what looked decidedly like a wedding ring on his right hand — the side Europeans prefer to wear their wedding band on — is there something you're not telling us Mr. Pitt?!!
RELATED STORIES: