From Venice Film Festival To The Mean Streets Of Santa Monica — Thursday's Best & Worst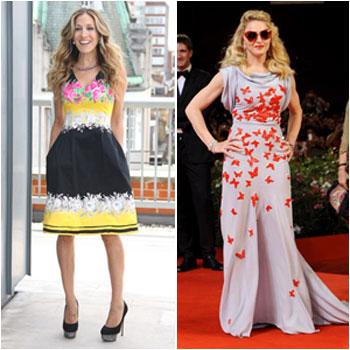 Thursday, September 1 was an international tour de force of haute couture -- with a few minor exceptions.
RadarOnline.com has the skinny on who's hot and who's not all the way from The Venice Film Festival to the mean streets of Santa Monica.
Best dressed include Sarah Jessica Parker and worst dressed include -- Sarah Jessica Parker?!
She's so versatile!
Stars who made an appearance on the red carpet at the 68th International Film Festival in beautiful Italy included Kate Winslet, Bar Refaeli, Madonna, Marissa Tomei and Abbie Cornish.
Article continues below advertisement
But not all of them sizzled when it came to their style. Kate, Bar and Marissa rocked the top looks, while Madonna and Abbie fell significantly shy of the mark.
Seems our A-listers save their best looks for overseas!
Lindsay Lohan and Rihanna both scored misses on our home shores -- La Lohan in a dangerously short mini-sundress and Rihanna in, well, see for yourself.
Meanwhile, Blake Lively did her best to redeem the USA in the style stakes in an adorable taupe shorts set, cropped cream sweater and funky heels.
So, who do you think was a style score and who made a fashion faux pas? Leave your comments below.
RELATED GALLERIES: