Angelina Jolie Enjoys London Life, As Brad Pitt Is Back To Work In USA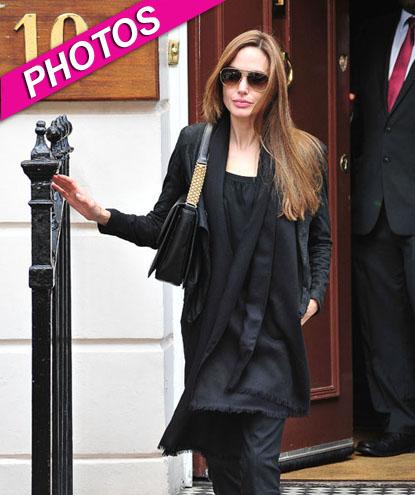 by RadarOnline.com Staff
Angelina Jolie and her brood have been London locals since Brad Pitt began filming World War Z in England, and RadarOnline.com has photos of her latest day out in the capital city.
As her main man promotes his new movie Moneyball back in the U.S. (and hopefully tries not to make any more inappropriate comments about Jennifer Aniston!), Angie enjoyed a curry at Indian restaurant Rasoi in the trendy Chelsea neighborhood on Wednesday.
Article continues below advertisement
Dressed in her usual uniform of head-to-toe black with flat ballet shoes, Angelina looked thin and pale as she stepped out onto the historical cobbled streets of London.
Taking a break from acting, the mother of six has been busy promoting her upcoming producer debut for The Land Of Milk and Honey, a romantic drama set in war-torn Bosnia, which is set for release on December 23.
While Angie is a doting a parent, Brad has been busy on the talk show circuit pitching his upcoming baseball biopic.
As RadarOnline.com previously reported, Pitt will appear on Thursday's episode of The Ellen Degeneres Show and answered the age-old question of 'Will he and Angie ever tie the knot?'
"I've said that we would not be getting married until everyone in this county had the right to get married," Brad told host Ellen DeGeneres.
"We live in this great country that is about freedom. It is defined by our freedom and equality and yet we allow this discrimination to go on everyday and that's not what we're about -- that's not what makes us great.
Article continues below advertisement
"Until that is reversed, I just don't get it," Pitt said, launching into an Italian accent. "It'a make'a no sense to me!"
DeGeneres said, "Thank you: So that means if like, next week if it's legal for everyone to get married that you would then be getting married the very next day?
"It seems," Pitt said.
Pitt plays Oakland Athletics G.M. Billy Beane in Moneyball, which hits theaters on Friday, September 23.