Victoria Beckham's Worst Nightmare... Forced To Wear FLAT Shoes To Fashion Week!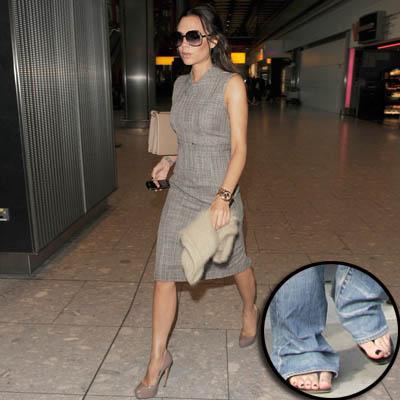 Victoria Beckham's worst nightmare has come true.
The designer has been ordered to wear FLAT shoes at New York Fashion Week next month after slipping a disc in her back.
Having previously said that she "can't concentrate in flat shoes" it appears that the mother-of-four is going to be very scatter-brained over the coming weeks.
She's also said in the past that she's never read a book – but named her six-week old daughter Harper after her "favorite author" Harper Lee so maybe what she says should be taken with a grain of salt.
Article continues below advertisement
David Beckham And Gordon Ramsay Take Their Kids Surfing In Malibu
Victoria was seen wearing sky-high Christian Louboutin heels well into the third trimester of her pregnancy with daughter Harper Seven when she attended the Royal wedding back in April.
The 37-year-old will be making her first official appearance since giving birth in July and is said to be dreading facing the fashion elite five inches shorter than she usually appears swanning along a red carpet.
"Victoria's not had an easy past few weeks," a source told Britain's Daily Mirror. "But she's a trooper and after getting the all-clear to attend Fashion Week provided her back doesn't significantly deteriorate, she has been advised to avoid heels."
The smile-deficient fashionista is said to have slipped the disc while pregnant but it was made worse by her recent caesarean section.
"Victoria has been frantically surfing the web for an acceptable pair of flats, ones which don't make her look like a golf club," the source added.
Article continues below advertisement
But Christian Louboutin and Roger Vivier are apparently scrambling to create acceptable pairs of heel-less shoes before her great unveiling.
Posh Ascends Gutter Queen Throne
She was pictured a few days ago wearing a pair of ballet pumps as she went out for lunch with David and her three boys Brooklyn, Romeo and Cruz.
Good news for Victoria though is that she appears to have already shed all of her pregnancy pounds and is back to being as skinny as ever.