Amber Portwood's Brother Slams MTV For Allowing Her Daughter Leah To Play With Condom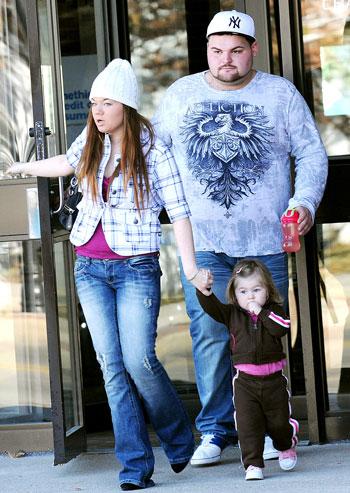 - RadarOnline.com Senior Reporter
Teen Mom reality star Amber Portwood's brother has slammed MTV for the latest portrayal of his troubled sister, and showing her daughter Leah playing with Gary's condoms.
Shawn Portwood wrote a defense of his sister in a recent blog post. In last week's episode of Teen Mom Leah is shown playing with her dad Gary Shirley's condoms, and Shawn takes issue with the way the producers portray his sister, calling MTV "spineless soulless individuals" in the rant.
Article continues below advertisement
"First, I would like to congratulate Teen Mom star Gary Shirley for doing something that he should have been doing for a while now, wearing condoms! Second, my hat goes off to you MTV for getting a close up of the Trojan Magnums seen around the world," Shawn wrote on his blog.
"Although they got a classic shot of my little niece playing with condoms; I wonder how it came about in the first place," he wrote, implying that the scene may have been staged.
Shawn then went on to bash MTV for broadcasting the incident where his sister attacked Gary. The network should have shelved the video, and notified authorities so the matter could have been handled in private, he suggested.
On the episode of Teen Mom, Gary cried as he professed his feelings for the mother of his child. "I miss you Amber," Gary said. "I want to be with you." Amber told Gary she loved him too but "we've had so many damn problems."