Shootings, Beatings And Fights At NFL Game In San Francisco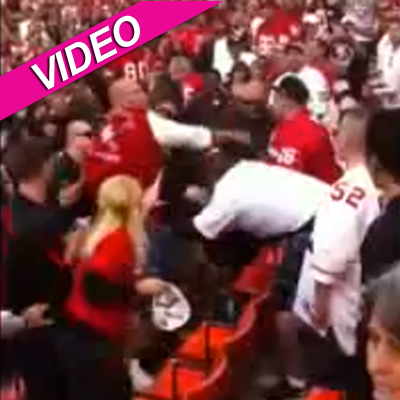 Two football fans are in critical condition Sunday after a night of stunning violence at an NFL game in San Francisco.
On the field at Candlestick Park, in a pre-season exhibition game, were the San Francisco 49ers and the Oakland Raiders.
During the game, four separate fights broke out. One was so brutal, cops had to rush into the stands to break it up.
Much worse, a 26-year-old man was savagely beaten in a men's room. He was rushed to a nearby hospital, unconscious and fighting for his life.
Article continues below advertisement
The violence didn't stop with the game.
Shortly after, in the parking lot, a man was shot in the face. His wounds were not life-threatening but he was taken to the hospital for treatment.
Another man was shot, possibly as many as four times, in a different section of the parking lot 15 minutes later. The 24-year-old was wearing a "F**k The Niners" t-shirt. He was last listed in critical condition.
The shocking violence came five months after San Francisco Giants fan Bryan Stowe was beaten, suffering severe brain damage, outside Dodgers Stadium following a game against the Los Angeles Dodgers. He remains hospitalized.
For those who cared about the actual game last night, The 49ers beat the Raiders 17-3.