Exclusive
The Toyal Family - Prince William And Kate Middleton Wedding Dolls Released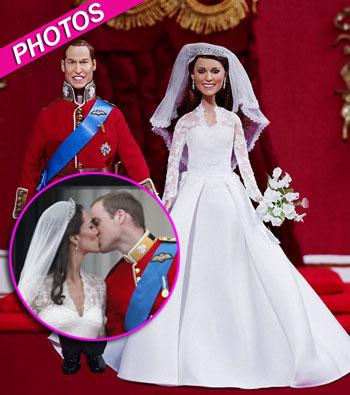 Yes, now you can own your own little bit of English royalty (or kitsch perhaps?).
Cashing in on the April 29 nuptials of everyone's favorite royal couple, Prince William and Kate Middleton, a British toy company, Arklu, has released special edition wedding dolls - which can be all yours for the bargain price of $264!!!
The dolls have been "painstakingly put together by an array of British designers to replicate the original outfits worn at Westminster Abbey."
Article continues below advertisement
And, Arklu claim that the dolls pay "homage to the stunning best of British outfits that so impressed the world."
A somewhat startled looking Kate is resplendent in a mini replica of the Sarah Burton for Alexander McQueen wedding gown she wore on the big day, while scary looking Wills is dressed in his specially commissioned scarlet Irish Guards colonel uniform.
The dolls are available through Arklu's website and for each one, or couple, that are sold the manufacturers pledge to donate a $1.65 to charity.