Prince Harry Gets Wet & Wild In Croatia!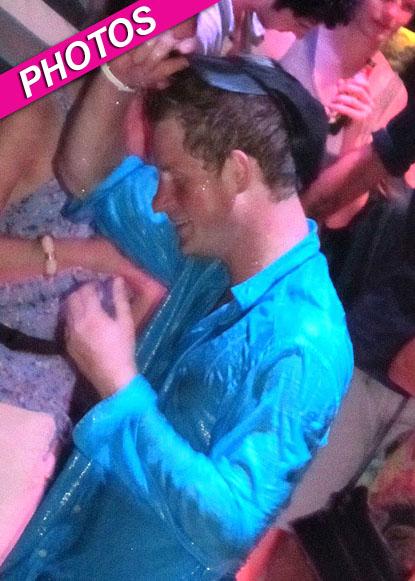 Prince or court jester?
In any event, Prince William's younger brother Prince Harry got went and wild Monday night in Croatia while partying at the Veneranda nightclub, which rests on the island Hvar.
As he was dancing on the edge of a round pool (with multiple catwalks across it), he appeared to lose his balance and decided to take the plunge in headfirst, his head thankfully missing the catwalk by mere inches.
Article continues below advertisement
The party boy emerged from the pool sopping wet, dancing in dampness until someone gave him a white tee to wear the rest of the night.
Click here to see video of Harry dancing and falling into the pool
The red-headed royal, 26, has been focused on training for military duty as an Apache attack helicopter pilot.
Earlier this month, Harry called it quits with his girlfriend, lingerie model Florence Brudenell-Bruce, to focus on his military commitments. The youngest son of Prince Charles and the late, great Princess Di will spend the rest of the year in California and Arizona, where he'll continue his pilot training.