Mariska Hargitay -- Working Mom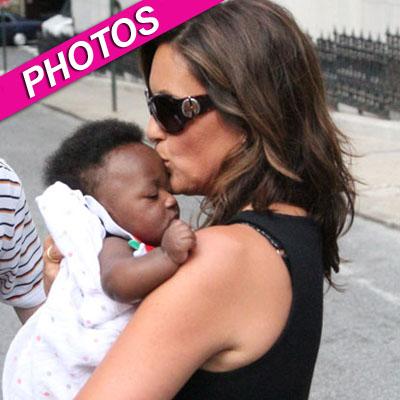 Actress Mariska Hargitay has found a way to juggle motherhood and work -- by bringing her baby to the set!
The Law and Order: SVU star was snapped carrying her baby girl Amaya Josephine as she left the set of her hit NBC show on Thursday.
PHOTO: Mariska Hargitay Steps Out With Baby
Hargitay, 47, and her husband, actor Peter Hermann, 43, adopted the little girl in April.
At the time, she told PEOPLE: "I'm deliriously happy. From the minute she was born, she was just surprisingly alert and so full of love."
Article continues below advertisement
EXCLUSIVE FIRST PHOTOS: Countess LuAnn On Law And Order: SVU
Though the child was born in the United States, Hargitay said: "We were considering both international and domestic adoption and we're thrilled that this is the way our prayers were answered," she added.
"We talked a lot about mixed-race adoptions, and we are very excited that we are now a multi-racial family. We're just so happy she's here."