PHOTOS: Law And Order: SVU's Mariska Hargitay Out With Her New Baby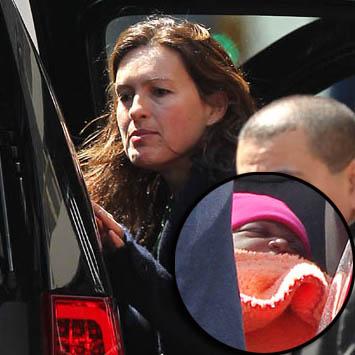 You have the right to remain -- adorable!
Gorgeous Mariska Hargitay, who plays Detective Olivia Benson on NBC's Law & Order: SVU, was seen leaving her New York City home with her 1-week-old baby Amaya Josephine, who she recently adopted.
EXCLUSIVE FIRST PHOTOS: Countess LuAnn On Law And Order: SVU
The newborn, wearing a bright pink hat, was sleeping like... well, a baby, as she left on the city outing with her family.
Article continues below advertisement
Hargitay's hubby, husband Peter Hermann, and son August, 4, were also along for the ride.
In an interview with People magazine, Hargitay described her joy at becoming a parent for the second time.
PHOTO: Mariah Carey Tweets Her Painted Belly
"I'm deliriously happy," she said. "From the minute she was born, she was just surprisingly alert and so full of love.
"We were considering both international and domestic adoption and we're thrilled that this is the way our prayers were answered," said the 47-year-old.
'We talked a lot about mixed-race adoptions, and we are very excited that we are now a multi-racial family. We're just so happy she's here."
Hargitay co-stars with Chris Meloni on Law & Order: SVU, which airs on NBC Wednesdays at 10/9c.
RELATED STORIES: