PHOTO: Mariah Carey Tweets Her Painted Belly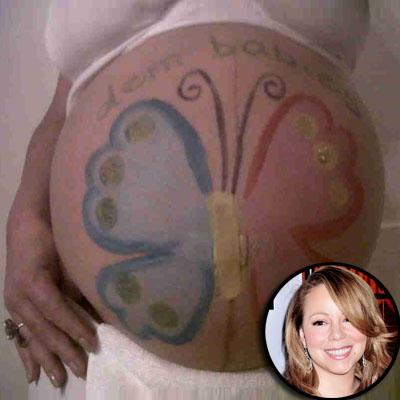 Mariah Carey and Nick Cannon celebrated their upcoming bundles-of-joy by tweeting a pic of the singer's growing baby belly on Monday, and RadarOnline.com has all the details for you.
The Grammy-winning Vision of Love singer, 41, is expecting twins -- a boy and a girl -- with hubby Cannon, 30. In the pic, we see the Someday singer's full belly with a butterfly painted on it, half-red, half-blue.
She wrote as a caption for the adorable pic: "My attempt @ festiveness on 327! For ATLITL thank u + I♥U! Comin soon #dembabies! LYMA+thanx 4 making me happy:)"
Article continues below advertisement
The Vision of Love singer, in an earlier tweet, said she'd been taken to the hospital for a false alarm on Sunday.
"So #dembabies really wanted 2 celebrate w/us/share the anniversary! I started having contractions last night..went 2 the hospital ... They almost came on 3/27- happy anniversary in deed!!! We have a few more weeks 2 go but- wow!!!: ) #soreadyallready!"
Don't forget, in the summer of 2010, RadarOnline.com was first to report that the singer is expecting.