Lindsay Lohan Compares Herself To Marilyn Monroe -- Twice!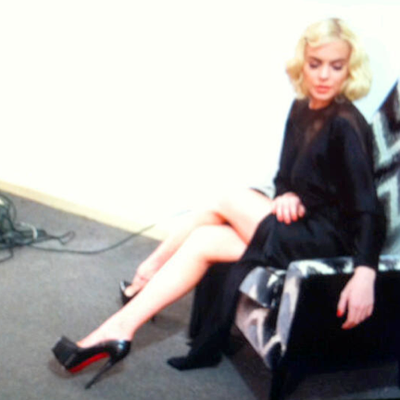 By Adam S. Levy - RadarOnline.com Staff Writer
Lindsay Lohan is trying really hard to position herself as a modern day Marilyn Monroe.
The Mean Girls star on Friday tweeted a new pic of herself sporting a blonde 'do reminiscent of the star who inspired Elton John's original Candle In The Wind.
Lohan, 25, tweeted, "@joycebonelli shoot..... the most amazing, introspective experience. #bestmakeupartist ever along the lines of the saint #paulstar" with the pic of her dressed up in a Marilyn-esque get-up.
Article continues below advertisement
Lohan -- who also donned a short, blonde look for a Monroe-inspired cover of New York Magazine in 2008 -- discusses the parallels between she and the Hollywood icon (whose real name was Norma Jeane Baker) in the foreword for author Susan Bernard's new book, Marilyn: Intimate Exposure.
"Marilyn was the beautiful bad girl in that tight, rose-colored dress," she wrote. "The character she played was strong and taking control, which I unconsciously knew at that young age (12) was a necessary quality for a woman. I can understand the photographer Bernard of Hollywood's Bruno Bernard statement, 'It took a superhuman effort to be Marilyn.' I identify."
She continued, "People in their mind have created who I am and act as if there is no real person inside of me. Just like Marilyn.
"Marilyn never wanted to be just a celebrity. Neither do I... I had always thought that movie stars were in films that would last forever in your mind. But now the films don't. I don't want to be remembered as someone who just wanted to be photographed, who goes out at night, and gets in trouble."
Article continues below advertisement
She added, "Heath Ledger once said to me, 'It's built you up to knock you down and that's all it is.'" (Sadly, both Ledger, in 2008, and Monroe, in 1962, died prematurely from drug overdoses.)
"Marilyn said she had no foundation," LiLo wrote. "But she said she was really working on it. I've been trying to do the same thing...
"I believe in myself and I'm a good actress."
RELATED STORIES: