Kim Kardashian's Wedding Dress Inspiration -- Nicole Richie!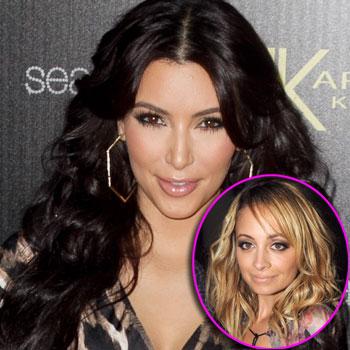 Kim Kardashian dished to Ryan Seacrest Friday morning on his radio show about everything from her dress, her stress and saying yes, in her last interview before she says "I do."
The 30-year-old reality star will tie the knot with her NBA star fiancé Kris Humphries in a lavish ceremony in Santa Barbara tomorrow night in front of 500 guests, and you'll never guess who helped her with her wedding dress — Nicole Richie!
Article continues below advertisement
"I don't want to give anything away but I will say I had this one vision of what I wanted my dress to look like and Nicole Richie called me and was like, 'Oh my God, I have this vision for your gown just hear me out please, please, I think you should go super classic, really old Hollywood,'" Kim told Ryan on his KIIS FM radio show.
"You can't go with something trendy and you can't show off too much. So she came over and she was like drawing out all these things and Simone, our stylist, was like we have this vision.
"It completely changed what I thought I was going with. It's timeless. I changed my mind a few times. Vera Wang has been very patient with me!"
And while Kim Kardashian's name has become a brand in itself, she says that she won't be changing it for work but will be taking her husband's name in her personal life.
"At home I will be Mrs. Humphries but out on the streets it will be Kim Kardashian," she laughed.
Article continues below advertisement
Kim, whose father Robert Kardashian passed away in 2003, says she will be carrying something of her fathers as she walks up the aisle on Saturday.
"I'm having something always with me. When you lose someone close to you, these are the moments that you wish your dad could be here," Kim said.
On a lighter note, the fashionista hinted that there may be more than one costume change throughout the wedding night to dazzle her guests with her specially designed gowns.