Exclusive
Kim Kardashian Spends Day Before Wedding Getting Primped & Pampered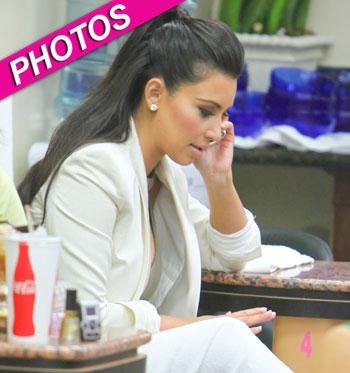 How is Kim Kardashian spending her final day as a single woman? Pretty much just like any other ordinary day of her glamorous life!
The reality bombshell, who is set to wed NBA star Kris Humphries in a lavish Montecito ceremony on Saturday evening started off her final day of independence by a workout with her trainer and a little pampering at a Beverly Hills nail salon.
Though she was up late at her swanky rehearsal dinner in Beverly Hills, Kim still managed to get up early and head to the gym!
Article continues below advertisement
"Even when I could sleep in I woke up early! Great workout @Gunnar!!!" she Tweeted Friday morning about her sweating session with celebrity trainer Gunnar Peterson.
Shortly after, Kim was photographed all glammed up, arriving at the nail salon, where she got a manicure and pedicure.
Kim's wedding, which will air on E! October 9 and 10 in a four-hour wedding special, is expected to be the most blockbuster event of the summer season, with a guest list that includes Justin Bieber, Christina Aguilera and Ryan Seacrest.