Katy Perry Thanks Fans For #1 Singles Record: 'I Couldn't Have Done It With Out Ya'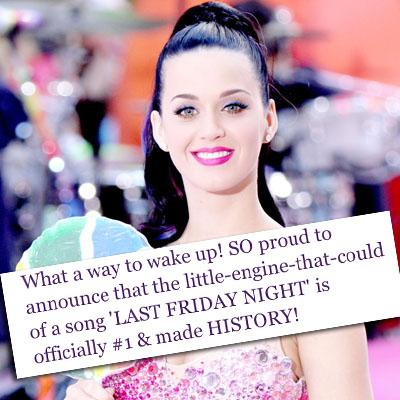 Katy Perry thanked her fans for propelling her to the amazing feat of tying Michael Jackson's record-five Billboard No. 1 songs from the same album.
"What a way to wake up!" the songbird wife of comic Russell Brand tweeted Wednesday. "SO proud to announce that the little-engine-that-could of a song 'LAST FRIDAY NIGHT' is officially #1 & made HISTORY!
"I couldn't have done it with out ya, really I owe u guys BIG... so take this moment to give yourself a high FIVE!!! #allbecauseofu"
Article continues below advertisement