Katie Holmes Gets Inked!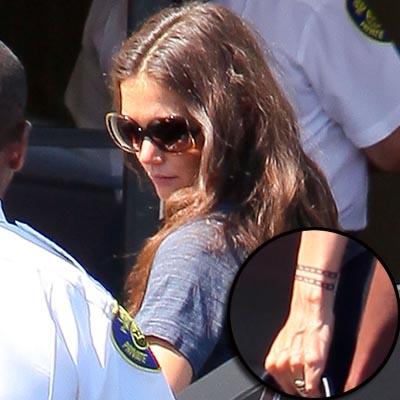 Katie Holmes gets inked –well, maybe.
The former Dawson's Creek star arrived at Digital Domain Studios in Los Angeles Thursday sporting a design of two chains running around her left wrist -- the only question is are they permanent or merely a temporary henna tattoo?
The actress was accompanied into the building by a security guard who was carrying a bag for her.
Perhaps Katie got her inspiration to have a tattoo by her hubby Tom Cruise.
Article continues below advertisement
The 32-year-old brunette beauty -- who has a five-year-old daughter Suri with Tom -- recently praised Tom's toned body which has been covered in fake inkings for his role as musician Stacee Jaxx in Rock of Ages, which he is currently shooting.
She said: "His body looks great and I'm so excited for him playing this character."
Katie and Tom are also good friends with David and Victoria Beckham who are known for having multiple tattoos.
MORE ON:
hollywood happenings
The soccer superstar's most recent addition to his extensive collection of body art was the name of his new baby daughter Harper etched in script along his left collarbone.
Katie just returned to her home in L.A. after spending several weeks in New York where she was working on her fashion label Holmes & Yang. She also attended the premiere of her new thriller Don't Be Afraid of the Dark while in The Big Apple.