Kate Winslet: 'It's A Miracle No One Died In The Branson Fire'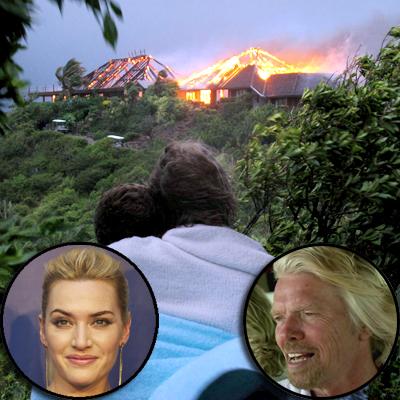 Kate Winslet says she will "never forget" escaping the massive fire that destroyed Sir Richard Branson's Caribbean mansion and adds it's a "miracle no one died" in it.
The Titanic star -- who carried the Brit billionaire's 90-year-old mother Eve to safety from the blaze -- is "so glad" that none of the 20 guests in the Great House were injured early Monday. (Winslet's boyfriend Louis Dowler and her two children Mia, 10, and seven-year-old Joe, were among those staying at the home).
Article continues below advertisement
The Oscar winner, 35, told The Sun newspaper: "I'm just so glad that everyone is safe. And this very easily could not have been the case.
"I will never forget Richard placing his arms around both my children as we were watching the flames, and saying, 'At the end of the day, what you realize is that all that matters is the people that you love. Everything else is just stuff. And none of that stuff matters.' "
Richard's 29-year-old daughter Holly -- who is due to get married on Necker Island in December -- was in the house when the fire broke out as a result of a lightning strike during Hurricane Irene.
Holly said: "It makes me feel sick thinking back to the night of the fire.
"It was an experience I hope none of us have to ever go through again in our lives."
The 61-year-old British tycoon's son Sam, 25, rushed over to the property to help evacuate the guests and feared his grandmother and sister had been burnt alive in the "horrific" accident.
Article continues below advertisement
Sam explained: "I woke up to a nightmare. The sight of our home was horrific -- amidst the storm all I could see was a huge ball of flames and a giant orange glow reflecting off the rain.
"I thought everyone inside was being burnt alive. I couldn't believe my eyes. I ran barefoot over cacti, through the hurricane force winds.
"All I could think was I've got to try and save what was left of my family, and did my best not to break down."