Kate Gosselin Tweets Into The Night After Her Show Is Canceled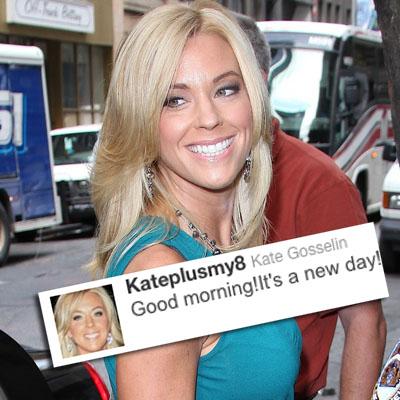 By Adam S. Levy - RadarOnline.com Staff Writer
Kate Gosselin was at no loss of words after her TLC show was canceled, staying optimistic about her future while tweeting back and forth with her fans late into the night Monday.
The mother-of-eight, after addressing her followers with a statement, continued the chat into the wee hours, retweeting kind sentiments from fans, answering their questions, and doling out dribs and drabs of info on what lies ahead.
Article continues below advertisement
Among the highlights:
Kate told one user she has no new shows in the works; When one fan asked her if she planned on going back into her original career of nursing, Kate replied, "I plan on staying on tv :) but if I have to to provide for my 8 lovelies, of course!"
She told one user, "we will all stay on twitter! I know I'm not going anywhere!"
Kate then channeled her emotions into her grueling workout routine, taking a few hours away from the website for a brisk run.
She tweeted, "Just ran 8.5 mi in 1:26. 1 mi for ea child and .5 for Shoka! Great stress relief! Whew! Shower..Egg wh om....Then tweet time! Be there soon!"
Then, in a statement sure to irritate her ex Jon, Kate put on her stage mom hat, making it known her 10-year-old daughter Mady is eager to snare a new gig in front of the cameras.
"Aww that Mady... So well spoken! Wants to do MORE tv!!! Disney anyone? Lol"
Article continues below advertisement
When a user tweeted her that "Mady is a star in the making," Kate replied "AGREED! MADY SAYS 'THANKYOU!'"
Taking a page out of the Team Coco manual, Kate retweeted a user's sentiment putting pressure on the network not to let her go.
"Come on TLC, don't take away the best show on TV for SIX years!!! Kate, is there anything us fans can do we all love y'all!" the user tweeted, which Kate re-posted to her own account. She also played the blame game a tad, retweeting one user's sentiment that "ratings dwindled b/c TLC put u in a 10 oclock time slot and didn't air ur shows consistently."
Kate Gosselin Stalked By Pedophile On Twitter
As we previously reported, the network pulled the plug on the family franchise Monday, announcing in a statement: "TLC has decided not to renew another season of Kate Plus 8.
"By the end of this season Kate Plus 8 will have hit the 150 episode mark (including Jon & Kate Plus 8); an exceptional milestone. TLC hopes to check in with Kate and the family periodically with specials in the future."