Multi-Tasking Mom Kate Gosselin Turns Carpenter – Sneak Peek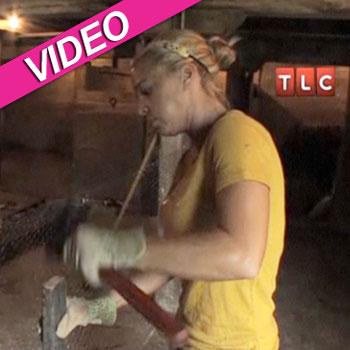 - RadarOnline.com Senior Reporter
Now that her show's been canceled is Kate Gosselin training for a new job?
"My first carpentry job of life," Kate says in the upcoming episode of her soon-to-be-ending reality show Kate Plus 8.
Building a fence for their baby chick pets, Kate gets her frustrations out by pounding the beams for the fence.
"It was so much work to pound those into the ground, I can't even tell you. I was giving it every ounce of strength that I had to slam those into the ground," the hard working single mom explains.
Article continues below advertisement
And her large brood of kids are pretty impressed with mom's abilities. "She built like a fence, I didn't even know she knew how to use a drill," one of her daughters says.
Kate's reality show was canceled by the TLC network last week and her ex-husband Jon Gosselin told RadarOnline.com he was "relieved" that his children would no longer be on television.
Kate Plus 8 airs Monday at 9/8c and the countdown has begun for the last show on September 12.