Kanye West Compares Himself To Hitler During Concert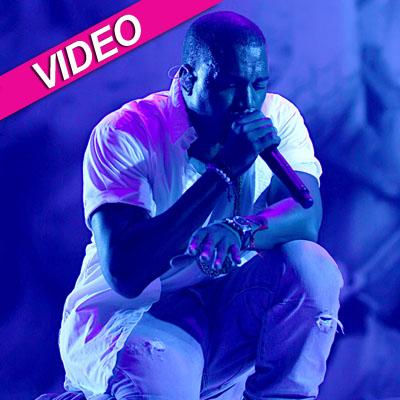 Kanye West launched in a bizarre rant at the Big Chill festival in England this weekend – during which he compared himself to Hitler, and later he paid tribute to Amy Winehouse and even invoked the name of NBA great Michael Jordan.
"I walk through the hotel and I walk down the street, and people look at me like I'm expletive insane, like I'm Hitler," West, 34, said on stage before some 40,000 fans. "One day the light will shine through and one day people will understand everything I ever did."
Article continues below advertisement
Some in the crowd booed the controversial hip-hop star, who was the festival's closing act.
West also defended his Monster music video, which has been criticized for showing girls hanging from their necks and acts of cannibalism.
"Who saw the video before it got banned, before they took it down and before women's groups starting saying that a person that lost the most important woman in his life is now against women in some way?" asked West, referring to his beloved mother Donda West , who died following a cosmetic surgery procedure back in 2007.
Adolf Hitler Sympathizer Lars von Trier Persona Non Grata At Cannes
At one point, West also invoked the name of his fellow famous Chicagoan, Michael Jordan.
"Michael Jordan changed so much in basketball, he took his power to make a difference. It's so much expletive going on in music right now and somebody has to make a expletive difference," he said.
West closed his show by paying tribute to the late British singer Amy Winehouse.
Article continues below advertisement
He spoke about a chance meeting with the Rehab singer during Paris fashion week.
"I was at Paris fashion week a few years ago with my fiancée at that time," he said. "We went to a house party and I met this beautiful, amazing, talented and funny woman. This is in memory of her."
He then performed a few moments of her songs Tears Dry On Their Own and Back To Black.
At the end of his set, he said: "Thank you for protecting your artists that are still here. This is for Alexander McQueen, for Amy, for Michael and for all the media, can you lighten up on all your artists that are still here?"
The crowd, which had booed him earlier, cheered and applauded.