So, Who Won? Fan Presenter Screws Up At BET Awards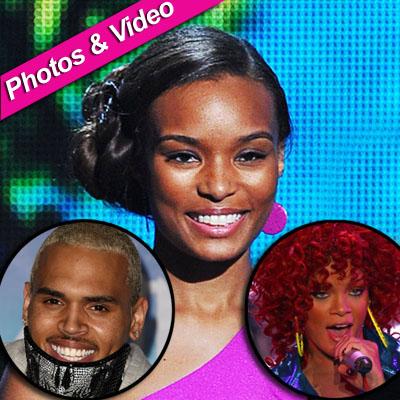 by RadarOnline.com Staff
Fan presenter Tiffany Green lived up to her name at Sunday's BET Awards.
Yes, the gorgeous Michigan native was green -- as well as nervous and confused -- in presenting the Viewers' Choice award at Sunday's ceremony at the Shrine Auditorium in Los Angeles.
Here's how it all went down:
Green, who won the Your World, Our World contest, looked like a deer in the headlights as she focused on the teleprompter and read, "And the winner is ... Chris Brown, Look At Me Now.
Article continues below advertisement
"No, I'm sorry, the winner is Rihanna, What's My Name!"
So, who won?
"OK, this is awkward!" host Kevin Hart said, adding to the confusion by announcing "Drizzy-Drake" as the winner (Drake, RiRi's collaborator on What's My Name, had not won the award, but actually come to accept the prize on her behalf).
"Well, this is awkward," Drake joked as he walked up to the podium.
Hart later clarified that Brown, indeed, had won the award.
On her Twitter page, Green blamed the network and the technology (digital tablets were used instead of traditional envelopes) for making her a viral video punchline.
"Bawling backstage. They totally f***ed me up," the foul-mouthed beauty tweeted. "The tablet f**kin said CHRIS BROWN....the TELEPROMPTER said Rihanna. What the F**K?????? Goin home.
On the evening, Brown performed twice and collected four awards: best male R&B artist, the Fandemonium award, the best collaboration award, and the Viewers' Choice award. Rihanna won best female R&B artist, Nicki Minaj won the award for best female hip-hop artist, and Kanye West took home the best male hip-hop artist.