Exclusive
Jersey Shore Star Ronnie Ortiz-Magro's Criminal Past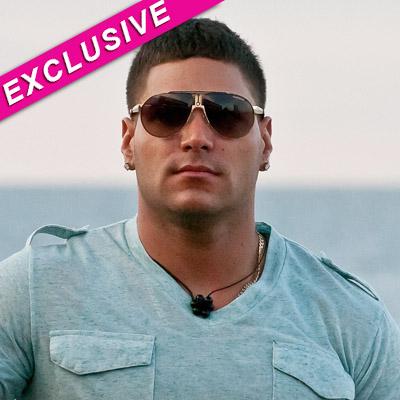 A Jersey Shore star has hid a secret criminal past for years, RadarOnline.com is reporting.
Star Magazine has uncovered Jersey Shore cast mate Ronnie Ortiz-Magro lied about being arrested for drugs and drunk driving.
Ronnie was arrested in 2009 after cameras on the hit MTV reality show caught on tape a vicious fight between the beefy New York born star and another man outside a bar in Seaside Heights, New Jersey.
Article continues below advertisement
At the time Ronnie, 25, claimed it was the first time he'd ever been arrested and was spared a prison term for the beating.
However, in its latest issue, Star reveals Ronnie's secret shame -- he had been arrested on multiple charges six years prior to his assault charge.
On May 15, 2005, a then 19-year-old Ronnie was pulled over and arrested by police five miles from his parents' home in Bethlehem, Pa.
According to the magazine, Ronnie was charged with "drunken driving, underage drinking, possession of marijuana and traffic violations".
Pulled over in the early hours of the morning, according to a local report the star had blood-alcohol ratio of .13 percent. Documents obtained by Star show the four charges were misdemeanors.
However, while Ronnie was charged on all four counts just what punishment he received is missing from the public record.
Article continues below advertisement
It is understood that Ronnie may have only faced probation with the record of the crime absolved following completion of a drug and alcohol program.
According to a clerk in the criminal division of the Northampton County (Pa.) Court of Common Pleas, which is the department responsible for dealing with such judgments, Ronnie may have been granted entry into a Accelerated Rehabilitative Disposition program.
"It's for youthful first offenders, usually involving DUI or a small drug offense," the clerk told the magazine. "They pay a fine and attend classes. If they finish the program satisfactorily, their case is expunged; there will be absolutely no record of it in the courts or arresting agency."
Ronnie was offered a similar punishment after his 2009 bar brawl, escaping a possible five-year jail sentence.
Article continues below advertisement
On July 11 of this year, a New Jersey judge admitted him into an 18-month pretrial intervention program. When he completes this program, his charge of aggravated assault will be dismissed.
Ronnie was also arrested in August 2010 for outstanding warrants stemming from unpaid parking tickets. He was released the same day after satisfying the conditions of the warrants.
RELATED STORIES: