Was Anna Nicole An Addict? Dr. Drew Faces Off With Her Former Doc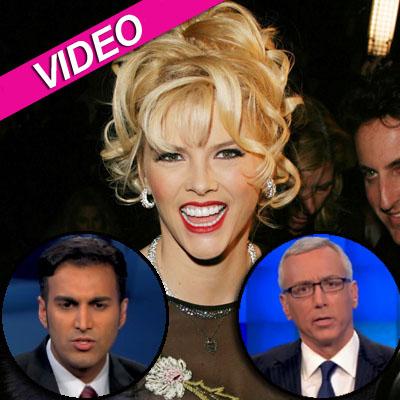 By Adam S. Levy - RadarOnline.com Staff Writer
On his HLN show Tuesday, Dr. Drew clashed with Anna Nicole Smith's former doctor Dr. Sandeep Kapoor over a number of issues, most notably Kapoor's claim the late Smith -- who died of a drug overdose February 8, 2007 in a Hollywood, Florida hotel room -- was not a drug addict.
Kapoor last year was found not guilty of conspiring to unlawfully provide controlled substances to the late reality star. He didn't score any brownie points with Dr. Drew when downplaying his misconduct in admittedly making out with his late patient.
Article continues below advertisement
"It was one day out of a 3-year history," Kapoor said. "It was a party situation and it was one day, and I admit there was a judgment situation involved in that."
Dr. Drew Pinsky Is 'Very Concerned' About Charlie Sheen's Ex, Brooke Mueller
"Is going to a party with a patient OK?" Drew asked Kapoor, who danced around the issue with doubletalk, saying certain social engagements with patients, such as dinner parties, were appropriate.
Dr. Drew replied: "I can tell you as an addictionologist, you never, never party with an addict, you try not to cross those boundaries with an addict because they have horrible, horrible boundaries."
"You assume she was found to be an addict," Kapoor said, to which Dr. Drew replied, "She died of addiction."
LaToya Jackson Says She Felt Michael's Presence After His Death
"She wasn't found to be an addict in the court -- that was one of the issues that was discussed heavily," Kapoor said. "Under my care, she was not a drug addict."
Article continues below advertisement
Dr. Drew recalled how Smith had painkillers injected into her gluteal muscle so many times, a part of her rear took on a woody texture due to scarring; an unnoticed staph infection developed in the region, hastening her premature death at 39.
Dr. Conrad Murray Requesting Dismissal Of Wrongful Death Lawsuit
In order to be admitted to the Betty Ford clinic (which Smith had been in the past), Dr. Drew pointed out, one must fit the criteria of an addict.