Exclusive
Casey Anthony In Satan's Mouth Painting For Sale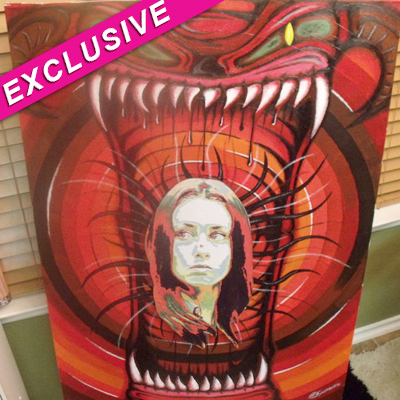 By Alexis Tereszcuk - RadarOnline.com Senior Reporter
Casey Anthony may well be the most hated woman in America, and one person felt so strongly about her that he painted a picture showing her face in the mouth of Satan!
Brandon Spencer, a Texas resident, has painted a picture that he calls "Destiny" that he describes as a picture that "portrays Satan with his mouth wide open consuming Casey as she spirals into his mouth."
Article continues below advertisement
He said he will donate half of the proceeds from the eBay sale to charity, but with the starting bid at $150,000 no one has offered any money yet.
"We have a daughter just a few months younger than Caylee," Spencer told RadarOnline.com. "Looking at a child and thinking that things like this occur fills me with rage. I have always been artistically inclined and I express my feelings through art frequently. I just wanted to do something for a good cause in the name of Caylee Anthony."
He said the painting represents his feelings about the 25-year-old who was found not guilty of murdering her little 2-year-old daughter.
"I have always been a firm believer in karma and that things absolutely do come back around. I truly believe that Casey's life outside of prison will be much worse than it ever would have been in."
Spencer said he thinks Casey is guilty of killing her daughter. And her smile after "getting away with murder sickens" him.