Exclusive
Casey Anthony Rubber Mask Drawing $25K Bid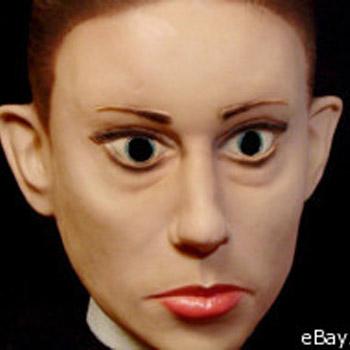 By Amber Goodhand - RadarOnline.com Reporter
If you're interested in looking like America's most hated mother there's a Casey Anthony mask for sale online, but you'd better be willing to fork over at least $25,000!
RadarOnline.com has discovered a latex rubber mask for sale on eBay that bears a striking resemblance to Anthony, and has already garnered 84 bids with the current high bid at a whopping $24,200.
"Forget Freddy, Jason, Meyers, here's your chance to scare the *#&% out of everyone and win every costume contest with this amazing Tot Mom latex rubber mask, possibly the most frightening mask on the planet," seller "prophunter" writes in the description.
Article continues below advertisement
"This one is in excellent condition and it is numbered 6 of 9. I kept one for myself because I know these will be priceless. A significant piece of crime history."
According to the seller, nine masks were made for a parody video and make mention that HLN host Nancy Grace would probably like to get her hands on one.
Bidding for the mask ends Wednesday at 9 p.m. PDT.
RELATED STORIES:
Names Of Casey Anthony Jurors Will Be Kept Secret Until October