Exclusive
Billy Bob Thornton's Daughter May Get New Trial To Overturn Manslaughter Conviction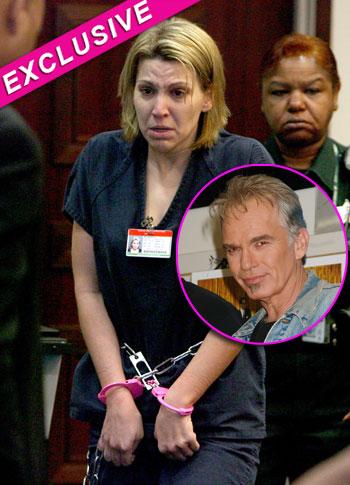 - RadarOnline.com Senior Reporter
Amanda Brumfield, the estranged daughter of Billy Bob Thornton, was found guilty of aggravated manslaughter of a child in May, but RadarOnline.com has exclusively learned that she may get a new trial.
Her defense attorney Jamie Kane asked Judge Reginald Whitehead for a new trial in a hearing Thursday morning and the judge ruled that he would take it under consideration and release his decision at a later date.
Article continues below advertisement
Kane exclusively told RadarOnline.com that Brumfield, 32, "is anxious to have this verdict set aside and get a new trial because she is innocent."
She was found guilty in connection with the 2008 death of her best friend's daughter, 1-year-old Olivia Madison Garcia.
Kane argued that the defense was not allowed to present evidence during the trial that would further prove their theory that the injuries Olivia Garcia suffered from were already in existence when Brumfield was caring for her.
Thornton's daughter was found not guilty on first degree murder and aggravated child abuse charges in Olivia's death.
Five times married Thornton, 55, has four children by three different women; he was infamously married to Angelina Jolie for three years.
Coincidentally, Amanda Brumfield's trial took place in the same courthouse where Casey Anthony's trial was held. Anthony was acquitted of killing her daughter Caylee Marie Anthony.