Exclusive
Neighbor Says Billy Bob Thornton's Jailed Daughter Seemed 'Quiet And Normal'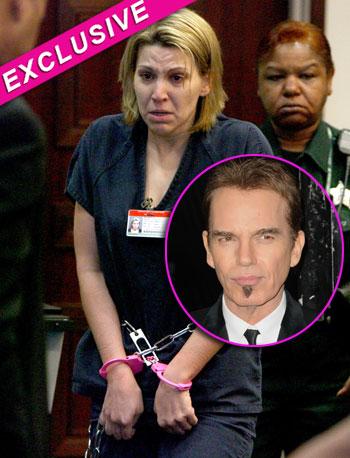 RadarOnline.com Staff Reporter
A neighbor of Billy Bob Thornton's jailed estranged daughter Amanda Brumfield has told RadarOnline.com: "She seemed like a quiet and normal person."
Charles Moorefield could not believe that Brumfield, 32, was accused of killing her best friend's one year-old daughter Olivia Garcia in 2008.
Married Brumfield is facing the possibility of a lengthy prison sentence after she was found guilty of aggravated manslaughter of the child.
Article continues below advertisement
Moorefield, who lives next door to Brumfield's home in Ocoee, Florida, where the horrific accident happened, told RadarOnline.com Online.com: "I was asleep when she was originally taken away by the police.
"Both she and her husband Stuart were nice people and they were not troublesome neighbors or anything like that.
"I spoke to her a few times and she seemed like a quiet and normal person – I used to see her playing with two young boys in their yard but I'm not sure if they were her sons or not.
"I believe her husband still lives in the house but nobody has seen her for quite a while – I did not know Billy Bob Thornton was her father."
During her trial at Orange County Courthouse the court heard that Brumfield waited more than two hours after her husband returned from work to call 911.
She told investigators that she was baby-sitting Olivia in her Ocoee home when the child lost her balance and fell about two feet out of her playpen.
Article continues below advertisement
Instead of getting immediate medical help she painted the toenails of the toddler and fed her bananas – when paramedics arrive they found the child's body limp and cold to the touch.
Cruel Brumfield was the godmother of little Olivia and the child's mother, Heather Murphy even had her own key to Brumfield's home.
Orange County Medical Examiner Dr. Jane Garavaglia, the same person who performed Caylee Anthony's autopsy, testified that the death of Olivia Garcia was intentional.
MORE ON:
Celebrity Justice
Garavaglia told the court Olivia suffered so much head trauma that she would have been unconscious within minutes and dead within an hour.
The tot suffered a three and a half inch fracture on her skull while under Brumfield's care which were not consistent with her story about the fall it was determined - she died from a skull fracture and bleeding of the brain early October 4, 2008.
Shortly after the fall, Brumfield sent a text message to Murphy that read: "So, funny little side note with a sad end ! - Olivia can climb out of her playpen but has learned she has perfected the landing."
Article continues below advertisement
Murphy, who was at her own home and already sleeping at the time, did not receive the message.
Brumfield was watching her children overnight because Murphy had to work an early shift the following day.
A short while later Brumfield sent a second message to Murphy that read: "Hey, I know ur asleep so u will get this in the am but I have a question. Can the girls stay with me tom night too? I've missed them sooooo much! I love them here!"
Other children who were in the home at the time, including Olivia's big sister, likely did not witness the incident, according to court findings.
During last Friday's sentencing Brumfield was acquitted of first-degree murder and aggravated child abuse charges in the case.
She will be formally sentenced in July.
RELATED STORIES:
LIVE STREAM: Testimony Resumes In Casey Anthony Trial -- Watch It Here Live