Barefoot Bandit Signs $1.3 Million Movie Deal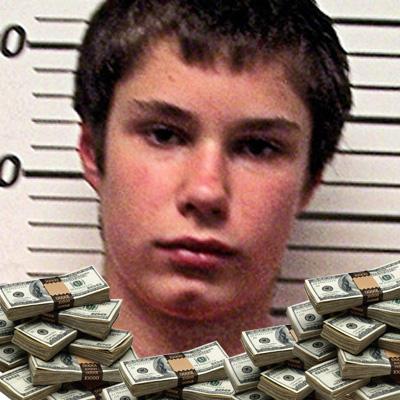 The so-called Barefoot Bandit has signed a movie deal worth as much as $1.3 million with 20th Century Fox, but he won't see a dime of it.
Colton Harris-Moore, 20, gained international attention -- and cult like fame -- for a brazen crime spree that spanned two years over several states and countries. Authorities say he stole five planes, more than a dozen cars, several boats and broke into homes and businesses before he was eventually arrested on July 11, 2010 in a hail of gunfire on a stolen boat in the Bahamas.
Article continues below advertisement
"I did things that were not only a violation of law, but also of trust," Harris-Moore said in a written statement released by his attorneys, as he remains in jail. "I can't undo what I did. I can only try to make things better."
The statement explains that he would only agree to sign a deal if his victims could be repaid.
"I am humbled to know I can now help the people I hurt, at least for the financial damage I caused them," Harris-Moore wrote. "I have absolutely zero interest in profiting from any of this and I won't make a dime off it. It all goes to restitution. That's what I insisted on from the beginning and the contract I signed guarantees it."
In June, as part of the federal plea agreement, Harris-Moore pleaded guilty to seven federal charges, including plane and boat theft, a bank burglary and weapons violations.
He also agreed to forfeit any proceeds from movie or books deals to the federal government to pay restitution.
The movie contract was agreed to by federal prosecutors. The $1.3 million will be paid only if Fox exercises all the options.
Article continues below advertisement
Lance Rosen, the Seattle-based entertainment attorney working on Harris-Moore's behalf, called the deal extraordinary.
"It's very unusual for this kind of money to paid for anyone's life story rights," Rosen said Wednesday.
According to reports, Dustin Lance Black -- who won an Oscar for his screenplay for 2008's Milk -- is writing the script and David Gordon Green will direct the film.
Various actors, including heartthrob Zac Efron, have been rumored to possibly play the Barefoot Bandit.
Despite the deal, Harris-Moore's troubles aren't over. He still faces more than 30 state charges and he could face up to ten years behind bars when he's sentenced in federal court at the end of October.
He remains in custody at the Federal Detention Center in Sea-Tac.
"Getting money to my victims is the least I can do, and because of my situation it is probably the best I can do," he wrote. "In due time I hope to earn the forgiveness of my neighbors and community, and everyone else I've hurt. I will continue to do everything in my power to make things better. My commitment to that endeavor is what keeps me going."