'Barefoot Bandit' Waives Extradition; Returning To Seattle To Face Charges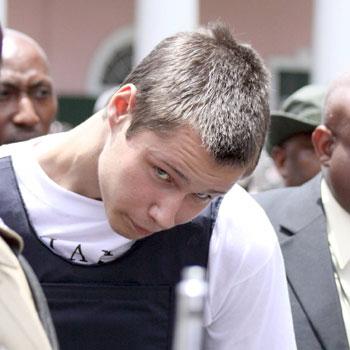 Colton Harris-Moore - better known as the 'Barefoot Bandit' - waived extradition before a federal judge in Miami, Florida on Friday morning, and is headed back to his home state of Washington, RadarOnline.com has learned.
During the brief hearing in Miami, the 19-year-old, dressed in a tan jumpsuit and wearing chains, remained silent as his court-ordered attorney spoke for him, saying the teen agreed to not fight extradition back to Seattle, Washington. Once there, he will face multiple criminal charges and will be held without the possibility of bail until a future bond hearing.
Article continues below advertisement
Harris-Moore is accused of a two-year crime spree, which officials say consisted of more than 70 break-ins and plane and boat thefts in eight states centered around the Pacific Northwest.
The teen, whose alleged exploits have gone viral to the tune of more than 89,000 Facebook friends, got his nickname because he is believed to have committed many of the crimes he's accused of while barefoot.
The "Barefoot Bandit" Captured - Hollywood Lines Up To Make Movie About Teen Fugitive
He allegedly left a calling card at one of his heists: a chalk outline of his feet he drew this past February at a market in Washington's San Juan islands following a robbery.
Harris-Moore, a native of Camano Island, Washington, was arrested in the Bahamas Sunday by local authorities after a high-speed boat chase.
On Tuesday, the gangly 6-foot-5-inch teen pleaded guilty to illegally entering the Bahamas and was fined $300. The US Embassy paid the fine.
Article continues below advertisement
He was later deported from the island and accompanied on the plane by Bahamian officials and FBI agents, but the teenager was unaware that the FBI agents were aboard, said John Gillies, FBI special agent and head of the Miami office. According to Gillies, the FBI did not have the right to arrest the teen while in the Bahamas, but later took him into custody once they reached Miami.
EXCLUSIVE INTERVIEW: Barefoot Bandit Is No Hero, Victim Says
His first conviction for stolen property came when he was just 12-years-old.