The Bachelorette's Ashley Hebert Picks JP; They're Engaged!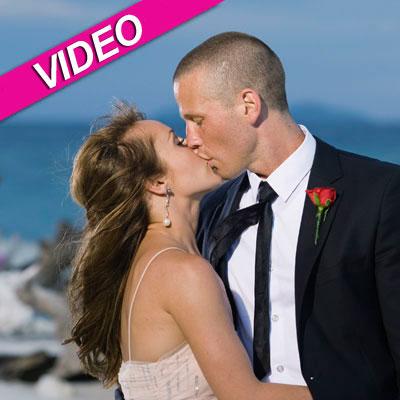 Ashley Hebert picked J.P. Rosenbaum over Ben Flajnik as her bachelor of choice on Monday's season finale of The Bachelorette – and yes, J.P. popped the question!
J.P., a 34-year-old construction manager from New York, told Ashley his "biggest fear is falling in love with her and having his heart broken again.
VIDEO: Watch the season finale of The Bachelorette
"I don't think about now, I think about forever, and it's hard to know," J.P. said. "What I do know for absolute certain is that I'm madly in love with you -- I'm so in love with you. You're the one. You're it.
Article continues below advertisement
"Ashley, will you marry me?"
She responded, "Today is the reason why I went through all the good times and the bad times ... I've been wanting to tell you how much I love you for so long now.
"You mean the world to me and I don't want to be with anyone else but you forever," Ashley, a 26-year-old dentist out of Philadelphia, told her suitor.
Following the two-hour finale, the newly-engaged pair told Jimmy Kimmel that following their engagement in May, they were sent to an exotic locale so they wouldn't give away the show's ending.
VIDEO: Watch Ashley & JP On Jimmy Kimmel Live
"We were in a very private house on a private island, so it was very romantic for a few days," Ashley said. "I think we were in there for four nights ... no one had any idea."
Ashley said they hope to marry by "the end of next year ... maybe the fall."