Exclusive
Bachelor Star Elizabeth Kitt's New Boyfriend Is On Cheating Website!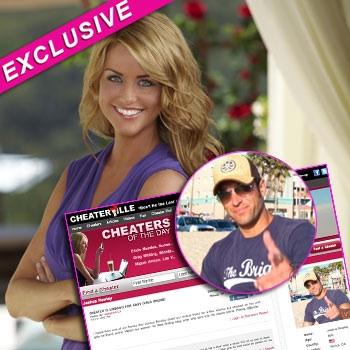 - RadarOnline.com Senior Reporter
Is Elizabeth Kitt destined to forever fail in love?
Just moments after RadarOnline.com posted the exclusive story of how the reality TV star found love on-line, we were alerted to the website Cheaterville.com where her new boyfriend Joshua Rowley is listed as a cheating guy!
With the headline "Cheater is looking for easy girls online," a note posted on July 11 says "I heard from one of my friends that Joshua Rowley dated our mutual friend for a few months but cheated on her with girls he found online. Watch out women, he likes finding easy ones who give into his charm online. f***ing douche."
Article continues below advertisement
Elizabeth told this week's Star Magazine that she is absolutely smitten with Josh. "I am completely in love and he is so amazing," Elizabeth said about her new guy who is 31 and lives in Venice Beach, Calif. Elizabeth met Josh after going on 200 dates on Match.com and said sparks flew right away, but she didn't kiss him on the first date.
Another comment about "featured cheater" Rowley on Cheaterville on July 13 said: "OMG@! He is on match.com and he said that he was 'tired of the scene and wanted to fall in love' what a stupid PIG I'm so sick of these guys who know how to say all the right things but act however they want!! I wonder how many other girls he said would be perfect on the towel right next to him on the beach. MAN WH*RE!"
Another poster said: "wow rowdy Rowley is on here...what a shocker. this loser is always trolling the bars in Hermosa hitting on all the hostess h*es. Haha enjoy your 15 minutes of fame big man you earned it."
Meanwhile, Josh seems to be taking it all in his stride. "This is hilarious. I was only on-line dating for a week before I met Elizabeth, then I logged off," he told RadarOnline.com. " To whomever the woman is who posted this, thanks, it is a good picture. Elizabeth and I had a good laugh over this!"