Bentley Williams 'A Narcissist, A Liar & A Coward,' Bachelor Says On Men Tell All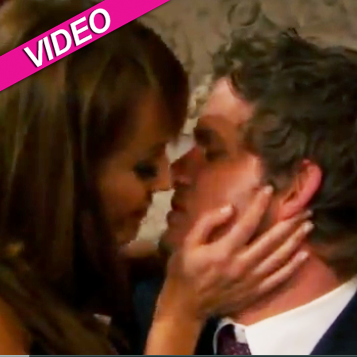 By Adam S. Levy - RadarOnline.com Staff Writer
Although he wasn't there, The Bachelorette Ashley Hebert's evil suitor, Bentley Williams, was a hot topic on Sunday's Men Tell All special, as Hebert and the fellas didn't hold back or downplay their hostility for the hunky heel, with one contestant labeling him "a narcissist, a liar and a coward."
Prior to the discussion, the show aired a montage of Bentley's low lights, as he callously claimed he didn't have feelings for Hebert, but clearly enjoyed manipulating her. (Bentley would leave the show prematurely, claiming he didn't want to stay away from his daughter, but returned on a later episode, tampering with Ashley's heart yet again.)
Article continues below advertisement
Bentley was invited to the taping, host Chris Harrison said, "but unfortunately, he declined."
That didn't stop those who were there from getting in a few licks, however.
"It was like, the guy had a game plan going in," Tim said, while Nick said he felt Bentley leading Ashley on was "crappy," because he took time away from the men that were there looking for love.
"What he did to Ashley was terrible," Blake said. "It's a terrible display of humanity -- he's a narcissist, a liar and a coward."
Harrison brought on Ashley's pal, and another former contestant, gorgeous Michelle Money, who claimed she learned Bentley had ulterior motives -- and tried to warn Ashley via text message about the bad guy -- to no avail.
"I don't care what anyone says, we want what we can't have .... in her defense, he is a charmer: he is good at what he does," Money said. "We are all guilty of falling for the bad boy at some point."
Article continues below advertisement
Watch the video on RadarOnline.com
In one portion of the pre-chat package, Bentley called his competitors "tools" and "freaking idiots" -- titles which did not sit well with Chris D.
"You know it's unfortunate he had to call us all 'Tools' at the house ... to see him being so dishonest, I can think of three words to say to him: Go f**k yourself!"
As for Ashley, she said that "being played on national television," and "being called an ugly duckling" was the toughest part of her Bentley experience on the ABC hook-up fest.
"I think that wasting a lot of time on Bentley was my biggest regret," Ashley said, adding that she spoke prematurely when she said she thought she was falling for Bentley on the show.
Looking ahead, we'll find out if J.P. or Ben captured Ashley's heart when The Bachelorette's season finale airs Monday at 8/7c on ABC.