Exclusive
It's On The Money! Bachelor Pad Winner Natalie Getz Predicts Who Will Win Season Two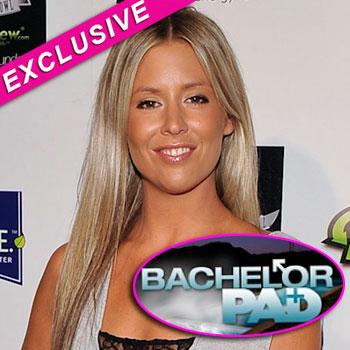 We're only one episode (although admittedly a very, very long episode!) into Bachelor Pad 2 and the contestants have already divided ranks into 'insiders' and 'outsiders.'
After watching Monday's three-hour premiere, season one winner Natalie Getz revealed exclusively to RadarOnline.com who she thinks came out on top.
"I can't believe Jake Pavelka, he totally went on the show just to rebuild his image," Natalie, who split last season's $250,000 jack pot with David Good, told RadarOnline.com in an exclusive interview. "He won in that degree but fails in our eyes."
Article continues below advertisement
As for Jake's ex-fiancé, Vienna Girardi, Natalie thinks she will go further than the pilot from Dallas, but not walk home with the prize.
"Vienna is playing the game but being a smart mover. She's the leader of the pack with the insiders, but she'll be the first one out of that group because she is the brains of the operation and they'll boot her," explained Natalie.
EXCLUSIVE BABY PHOTOS: Bachelor Pad's Kiptyn & Tenley -- Before They Were Famous
One contestant who hasn't learned from past mistakes is Gia Allemand, who is taking her second stab at the prize after walking home empty handed during the first season.
"Gia went with the wrong group again! She thinks she can win by going with the outsiders but it doesn't work that way," exclaimed the Illinois native who now lives in Hollywood.
"She should have bonded with Graham Bunn right away. They knew each other before, but instead she sided with Jake, the most hated person in the house. She's shown for the second time that the outsiders can't be trusted!"
Article continues below advertisement
As for who WILL take the winnings, Getz is putting her cash on Michelle Money. "I am very good friend with Michelle, she's definitely one of my favorites," she revealed, adding that she thinks the last man standing will be Michael Stagliano.
"He is so lovable, and he is so much fun to be around. I can't believe anyone would vote him off. This is a show where nice people DO win."
Bachelor Pad 2 returns next Monday at 8/7c on ABC.