Exclusive
A-Rod Changing His Story As MLB Investigators Schedule Face-To-Face Meeting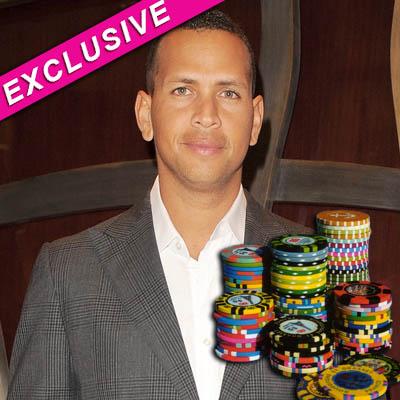 Looks like Alex Rodriguez is making adjustments outside of the batter's box, as well.
The perennial All-Star distanced himself on Thursday from earlier statements about his involvement in the Hollywood poker ring, as he's set to meet with major league baseball investigators to discuss exactly what went down.
The Yankee third baseman, who boasts 626 career home runs, initially flatly denied Star magazine's June 26 report he'd secretly attended one of the big money games.
Article continues below advertisement
"Mr. Rodriguez has not participated in these poker games," Rodriguez's publicist, Richard Rubenstein, said at the time.
But Star published a new exclusive – on newsstands now – with multiple eyewitnesses placing A-Rod at two games. Now, the slugger's camp is mum about the specific evidence. One of the games took place in 2009 at the $16.5 million Beverly Hills mansion of record label owner Cody Leibel, where cocaine was openly used and a fight broke out between the homeowner and another player over a $500K poker debt.
Asked about Star's latest revelations, Rubenstein said: "I am not prepared to comment any further about alleged sightings." He now refuses to say that A-Rod never played in the games.
Rubenstein has also issued a statement saying the original Star story -- putting the baseball star in a seedy den of high-stakes poker, drugs and violence -- "contains numerous factual inaccuracies" and that "Alex looks forward to cooperating with Major League Baseball's investigation."
Article continues below advertisement
When asked if that meant specifically that Rodriguez had never played in any of the poker games, Rubenstein said, "I'm just saying what I'm saying."
Baseball's zero tolerance gambling policies have prematurely ended the careers of two of the sport's all-time greats: "Shoeless" Joe Jackson and Pete "Charlie Hustle" Rose, who received lifetime bans in 1920 and 1989 respectively, after their roles in gambling scandals were publicly exposed.