Exclusive
16-Year-Old Bride Courtney Stodden Tweets Her Words Of Wisdom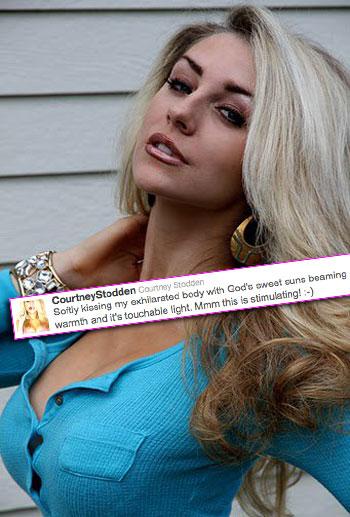 Teen bride Courtney Stodden may only be 16 years old but she already has quite a way with words.
The model/singer, who famously married much older Green Mile actor Doug Hutchison, 51, maintains a Twitter page that is laden with her words of wisdom – from the T.M.I. variety to the quite bizarre and frankly, rather racy.
"A soft sensation sweetly kisses my body as I prepare for a sexy hot photo shoot this afternoon. What a breathtaking morning it's been! ;)," reads one tweet.
Article continues below advertisement
Another reads: "Throwin on a white string bikini, fluffy light up bunny ears, 7in heels, & a rhinestone bow tie while bakin cookies. Don't Put It On MeGirl."
"Just learned how to do the splits… Figured I'd need to know how to do that trick sooner or later! Who knew my legs were so flexible?!" is one of her more suggestive postings on the social networking site.
"Woke up to a perfect morning; Romantic melodies softly playing, my favorite breakfast all prepared, & my pups licking me up & down… Mmm!"
"Slowly slipping under these sensuous silk covers as I lie down in bed & entertain myself w/the classic movie Gentlemen Prefer Blondes. XOs."
But showing she hasn't forgotten her Christian roots – her tweets are also filled with references to God and Jesus and quotes from passages in the Bible.
"Softly kissing my exhilarated body with God's sweet suns beaming warmth and it's touchable light. Mmm this is stimulating! :-"