Tiger Woods' Longtime Caddie 'Shocked' At Firing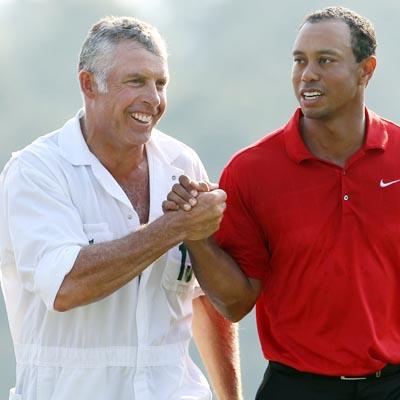 By Adam S. Levy - Radar Staff Writer
Tiger Woods is calling it quits with his longtime caddie.
The golfer, 35, said on his website Wednesday that he'll no longer be working with Steve Williams, his New Zealand-born, right-hand man on the links for the past 12 years.
EXCLUSIVE PHOTO: Tiger Woods' New Girlfriend Mug Shot -- Arrested On Suspicion Of DUI
"I want to express my deepest gratitude to Stevie for all his help, but I think it's time for a change," Woods said. "Stevie is an outstanding caddie and a friend and has been instrumental in many of my accomplishments.
Article continues below advertisement
"I wish him great success in the future."
In response, Williams said on his website that Woods' decision to let him go "came as a shock.
"Given the circumstances of the past 18 months working through Tiger's scandal, a new coach and with it, a major swing change and Tiger battling through injuries, I am very disappointed to end our very successful partnership at this time."
Following Woods' messy marital breakup last year, Williams denied knowing of the golfer's serial sexcapades through the decade he spent at his side, in which Tiger won 13 of his 14 Major championships.
"I knew nothing and that's my answer," Williams told New Zealand's TV3 in a March 2010 interview. "I knew nothing, don't need to clarify it, extend my answer, I knew nothing."
In the chat, Williams remarked he was "disappointed that Woods let his family down."
Sexy Photos Of All Tiger's Women
Woods, who is sidelined from the PGA Tour with an injury to his left leg, has yet to name a replacement.
RELATED STORIES: