Tiger Woods Taps Best Pal As His New Caddie For Comeback Tournament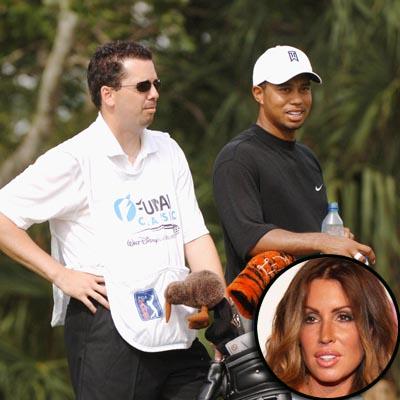 By Cliff Renfrew - RadarOnline.com Reporter
In his hour of need, Tiger Woods has turned to the one person he can trust -- Byron Bell -- the guy who covered-up for his philandering with Rachel Uchitel while he was married to Elin Nordegren.
Bell -- who infamously allegedly bought a plane ticket for Uchitel so she could fly to Australia and hook-up with Woods -- will be his caddie at his comeback tournament at the Bridgestone Invitational in Ohio next week, according to The Golf Chanel.
Article continues below advertisement
Bell had reportedly set up several trysts for Woods with Uchitel and Joslyn James.
Despite the huge fall-out from the scandal -- which cost Woods an estimated $100 million divorce settlement with Nordegren last year -- the two men have remained close friends.
Woods even pulled-out of being best man at Bell's wedding, fearing that his presence would put unwanted media attention on his best pal.
On his latest Twitter entry, Wood sounds pleased to be picking up his golf clubs once again.
Article continues below advertisement
He wrote: TigerWoods Tiger Woods
Feeling fit and ready to tee it up at Firestone next week. Excited to get back out there!
Woods last played competitively May 12 at The Players Championship, when he withdrew after going 6 over on the front nine because of recurring pain in his left leg.
The former world number one has not won a major tournament since the sex scandal rocked both his career and personal life.