Exclusive
Jonny Fairplay's Wife Leaves The Survivor Bad Boy — Alleges He's 'An Unfit Dad'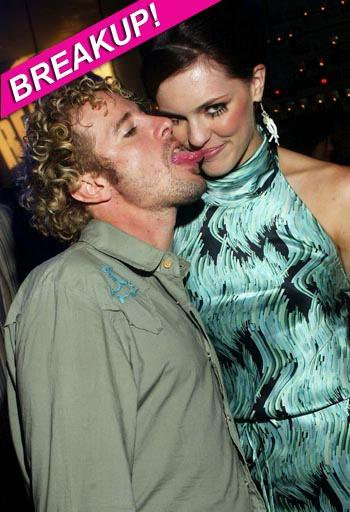 By Cliff Renfrew - Radar Reporter
Jonny Fairplay's model wife Michelle Deighton has walked out on the Survivor bad boy, taking their young daughter with her and alleging he's an unfit dad, RadarOnline.com can exclusively reveal.
The former America's Next Top Model contestant called time on their three-year marriage and took their 3-year-old daughter Piper, from their home in Virginia on June 8, 2011.
Article continues below advertisement
A source close to Deighton has hit back at accusations that she has been refusing Fairplay access to their child since their split, insisting that she is more than willing for the two to spend time together, but wants to monitor the visits as she worries that Fairplay is negligent.
Meanwhile, since the pair split Fairplay has sent Michelle legal papers to try and get full custody of Piper.
A source close to Deighton, 26, told Radar Online.com: "The whole thing is a joke. Michelle is a responsible mom who looks after her daughter and works 40 hours per week at a child care center in Virginia. Jonny is asking her to pay for the legal fees!
"She has not denied Jonny or his family access to Piper and they now only live 15 minutes away from him. All she has insisted is that she is present when he sees their daughter because she fears that he is not responsible enough.
Article continues below advertisement
"He last saw Piper two weeks ago for about 15 minutes but does not return calls from Michelle.
Gabriel Aubrey Picks Up Nahla From School – See The Photos
"While she was working he was not looking after Piper properly and he would spend time on his computer or on the phone to his friends while putting the little girl in front of the television. Michelle just outgrew the relationship and decided to call it quits because Jonny could not get a proper job and be responsible.
"He likes to play golf or go around the country doing Survivor appearances at bars – and as long as they just paid for his flight, drink and board he is happy.
Halle And Nahla Hit The Market
"In the court papers he sent to Michelle he asked for full custody of Piper which is just not going to happen – Michelle does not want any drama but she has hired her own lawyer now.
"Neither has formally filed for divorce but the relationship is definitely over because she knows that Jonny will not change. And now, Jonny is hurting because he was rejected, but he blew all his chances with Michelle."