Shocker! Throat-Cancer Survivor Michael Douglas Smoking Again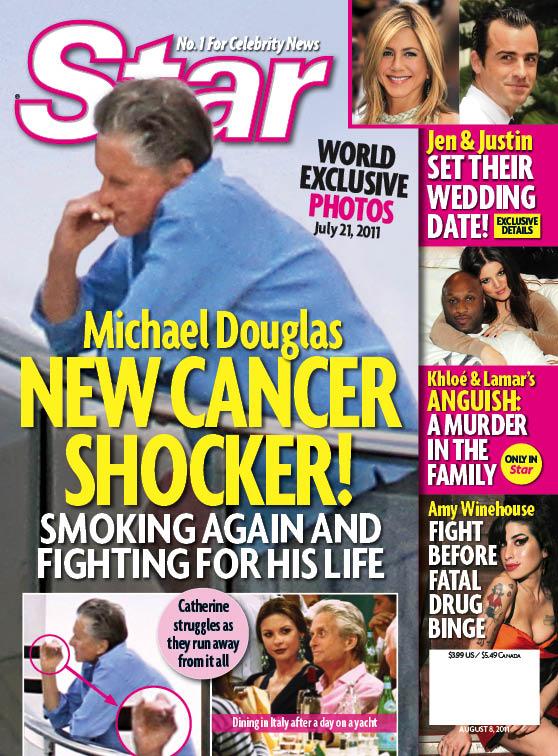 A series of shocking photograhs show throat-cancer survivor Michael Douglas smoking again, just months after enduring grueling treatment for the disease. The photos appear in the new issue of Star magazine and were taken July 21, as Michael and wife Catherine Zeta-Jones, traveled on a yacht to Porto Venere, Italy.
The legendary actor is clearly seen in photos — and more inside Star — puffing on something that appears to be hand-rolled. In one photograph inside the magazine smoke can be seen coming out of his mouth.
Article continues below advertisement
Douglas went through chemotherapy and radiation last year, bravely battling cancer, making these new photos even more stunning and raising the question: Why would he smoke?
Medical experts said even if Douglas was smoking medicinal marijuana — and it is not known if he was — it's still a bad idea. One expert said if he needed medicinal marijuana, he'd be better off taking it in pill form.
Zeta Jones has also been seen smoking in recent weeks, raising eyebrows about Michael's possible exposure to second-hand smoke.
But now these new photos are causing people to wonder why Douglas would indulge. The actor was a heavy smoker before being diagnosed with throat cancer.
Douglas refused to comment about the photos.
The new issue of Star magazine goes on sale Friday with more photos and information about Douglas smoking.
RELATED STORIES:
Michael Douglas & Catherine Zeta-Jones: Portofino Pair