The Royals Arrive In Yellowknife; Kate Creates Baby Buzz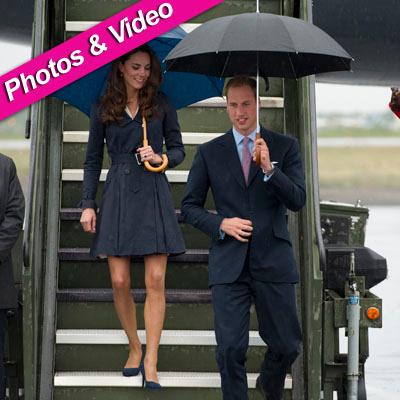 By Adam S. Levy - RadarOnline.com Staff Writer
On this Tuesday, day five of the Royal tour of Canada, Prince William and Kate Middleton are in Yellowknife, the capital of the Northwestern Territories of Canada. They arrived there amid a steady rain late Monday and were greeted by throngs of supporters who showed up to the airport.
In the fourth stop on their nine-day tour, the royals are slated to attend a ceremony at a local park, featuring a street hockey game and aboriginal dancing showcase. About 5,000 locals are expected to show up. After that, they'll attend a youth parliament session, then meet with First Canadian Ranger Patrol Group at Blachford Lake.
Article continues below advertisement
William & Kate Cook In Montreal
On Monday, Kate made waves after an onlooker wished her luck in starting a family: She responded, "Yes, I hope to," sparking rampant media buzz over the possibility of her having children soon. (Kate did not elaborate on her comments).
Also, in what made for another great photo-op, Prince William, a Royal Air Force rescue helicopter pilot, repeatedly co-piloted a Sea King helicopter for a water landing in a training exhibition on Dalvay Lake in Prince Edward Island National Park. Prince William, clad in an olive flight suit and helmet, expertly glided his helicopter onto the water six times during the hour-long showcase while his gorgeous wife watched from afar.
William And Kate Honor The Irish Guards
His landing trainer, Col. Sam Michaud, told the AP the royal was "looking for his wife on the shoreline at one point.
"She was waving back about 100 feet away."
Prince William –Through The Years
The prince, who is now fully trained in the art of the helicopter water landing, earned high marks from Maj. Pat MacNamara, who told the AP the recently-married hunk is a star pilot.
Article continues below advertisement
"I would suggest he was having quite a bit of fun; he said it was one of the highlights of his trip," MacNamara said.
Prince William & Kate In Canada -- See The Photos
Then, the royal lovebirds went head-to-head in a Dragon Boat race in Charlottetown, Canada, where William's crew beat Kate's, but the pair embraced after.
William reportedly told Kate, "There's no chivalry in sport," after he received a bottle of champagne as a prize for the win.
Following the competition, the couple watched a showcase of local performers singing and dancing to Celtic and Acadian songs; sampled local delicacies -- including lobster -- in a lavish tent set up in their honor; and watched a search-and-rescue operation conducted.
The royals begin their much anticipated three-day trip to California beginning on Friday, and RadarOnline.com will be there to capture all of the action for you.