Prince William Hugs Kate After Beating His Bride In Boat Race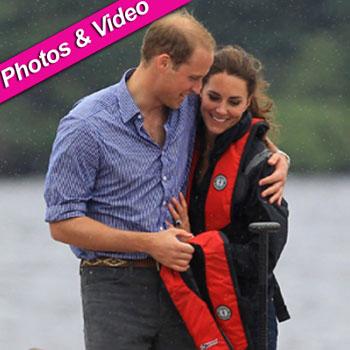 by Radar Staff
Prince William and Kate went head-to-head in a Dragon Boat race in Charlottetown, Canada Monday afternoon. William's crew beat his bride's but Kate didn't seem to mind, especially when she got a warm consolation hug from her husband.
Prince William & Kate Hug After Boat Race – See The Photos
The newlyweds seem to be having the most fun and adventuresome day of their Canadian journey.
This morning, William, who is a search and rescue pilot at home in Britain, co-piloted a military helicopter during training exercises on Dalvay Lake in Prince Edward Island National Park. The Canadians are the only military in the world to do helicopter water landings, and William was reportedly anxious to learn the technique.
Article continues below advertisement
William & Kate Cook In Montreal
The Dragon Boat races that followed were a far less-serious exercise but Kate, an experienced paddler from her university days, still gave it her all.
The royal lovebirds, officially known as the Duke and Duchess of Cambridge, will be in Canada for several more days before landing in Hollywood.